Rothman: Affirmative Action Outrage Exposes Emptiness of Liberal 'Privilege' Obsession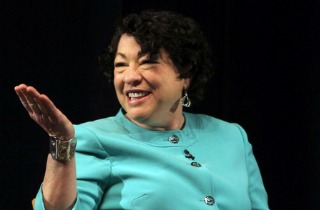 A trend in liberal circles in recent years has been to lament the condition of "white privilege," a pervasive social ill that exists exclusively outside liberal circles. This ailment, cultural arbiters contend, occurs within groups of Americans of majority descent. It is often subjectively diagnosed post hoc, making avoiding the landmines associated with displays of "privilege" difficult. This is to say, it is a more racially-charged form of expressing disagreement.

Which is perhaps why the liberal chorus of acclaim directed at Supreme Court Justice Sonia Sotomayor's dissent in Tuesday's decision affirming the constitutionality of a Michigan referendum disallowing state university admissions boards from factoring in race when considering student applications is so discordant. Her 58-page dissent has been described by ideologically simpatico commentators as "scathing," "blistering," and "powerful."
"The way to stop discrimination on the basis of race is to speak openly and candidly on the subject of race, and to apply the Constitution with eyes open to the unfortunate effects of centuries of racial discrimination," Sotomayor wrote.
And race matters for reasons that really are only skin deep, that cannot be discussed any other way, and that cannot be wished away. Race matters to a young man's view of society when he spends his teenage years watching others tense up as he passes, no matter the neighborhood where he grew up. Race matters to a young woman's sense of self when she states her hometown, and then is pressed, "No, where are you really from?", regardless of how many generations her family has been in the country. Race matters to a young person addressed by a stranger in a foreign language, which he does not understand because only English was spoken at home. Race matters because of the slights, the snickers, the silent judgments that reinforce that most crippling of thoughts: "I do not belong here."
Indeed, this is powerful stuff. "Race matters," became a nearly ubiquitous chyron on MSNBC on Tuesday, and the refrain inspired a series of political columns in which the poetic dissenting opinion was lauded.
Sotomayor's dissent inspired others to build on the idea that the Court set racial progress back untold generations. Asserting that the Court had won yet another battle in their "long-running war on black Americans," PoliticusUSA's Keith Brekhus wrote that the decision "only eliminates race-based affirmative action, but it does not end affirmative action for privileged affluent white children through legacy scholarships."
Praising Sotomayor's "courageous and personal" dissent, Attorney General Eric Holder said on Wednesday that "this country still has a long way to go before our founding promise of equal justice and equality of opportunity is fully realized."
Calling it a "racist decision," Shanta Driver, an attorney who has argued before the Supreme Court, took this line of reasoning to its ultimate conclusion. "At the very moment that America is becoming a majority minority nation this Court is declaring its intention to uphold white privilege and to create a new Jim Crow legal system," she insisted.
All this passion is indicative of the sensitive nature of the subject matter. But Sotomayor's opinion, in which she was joined by only one of the Court's four reliably liberal justices following one recusal and another defection, came up short on the pivotal matter of legal precedent.
In a concurring opinion, Justices Antonin Scalia and Clarence Thomas argue that the Equal Protection Clause in the 14th Amendment is plainly violated by racial preferences at public institutions. "Does the Equal Protection Clause of the Fourteenth Amendment forbid what its text plainly requires?" Scalia asked. In a narrower reading, the defecting liberal Justice Stephen Breyer, who has supported the constitutionality of affirmative action programs in the past, sided with the notion that voters should not be overruled in this case. "This case is not about how the debate about racial preferences should be resolved. It is about who may resolve it," Justice Anthony Kennedy wrote in the plurality opinion.
"She presents a potted history of race in America in which there is a straight line from Jim Crow segregation through literacy tests to the Michigan amendment, which 'involves this last chapter of discrimination' –even though it bans discrimination, and even though Sotomayor acknowledges that its substance is perfectly constitutional," the Wall Street Journal's James Taranto observed of Sotomayor's call to action.
The editors at the National Review savaged Sotomayor's "legally illiterate and logically indefensible" dissent, adding that her opinion "offers a case study in the moral and legal corrosion that inevitably results from elevating ethnic-identity politics over the law."
Justice Sotomayor has revealed herself as a naked and bare-knuckled political activist with barely even a pretense of attending to the law, and the years she has left to subvert the law will be a generation-long reminder of the violence the Obama administration has done to our constitutional order.
The narrowly defined legal arguments having already carried the day, opponents of this decision are left to bemoan the state of race relations, the lack of reparative justice emanating from the courts, and the gradual deflating of the formerly guiding notion that double standards — a form of privilege, if you will — are necessary to right historical wrongs. "In order to get beyond racism, we must first take account of race," wrote the late Justice Harry Blackmun, as quoted by Taranto, in 1978. "And in order to treat some persons equally, we must treat them differently."
But linguist and columnist John McWhorter composed the strongest rebuttal to Sotomayor's allies in his piece in TIME. "That kind of taking race into account made perfect sense when most black people were poor and had no access to decent education. But what about now, when it is not rare to be middle class and black?" he asked. "We must avoid pretending that such people are mere hothouse rarities — i.e. last time I checked, it was racist to declare that being black means being poor."
He noted that he experienced racial discrimination and that he recognizes the burdens shared by many families do suggest that affirmative action is an important program. But the ills that program was intended to address are no longer suffered by minorities alone. He added that the acknowledgement that history's wheels continue to turn and the racial challenges of today are distinct from those of 1964 is not heresy.
"Decisions like Tuesday's are, therefore, progress," McWhorter closed. "We should celebrate it."
[photo via FayesVision/WENN.com]
 — — 
>> Follow Noah Rothman (@NoahCRothman) on Twitter
Have a tip we should know? tips@mediaite.com