As any humor writer will tell you, the jokes that resonate the most are those that tap into a vein of truth. It can be an unspoken or even an unacknowledged truth, but those humorous barbs that sting the most are those grounded in reality.
Both President Barack Obama and first lady Michelle Obama took a stab at off-the-cuff humor on Monday. The results were … mixed.
Taking a tour of Thomas Jefferson's Virginia home on Monday with French President Francois Hollande, Obama quipped to the traveling press corps that he was breaking protocol by emerging from Monticello to tour the grounds.
"That's the good thing as a President, I can do whatever I want," the president remarked with a smirk. It's fitting that Obama made this distinctly anti-republican remark while accompanied by the successor to the legacy of Louis XIV, to whom mythology attributes the famously post-hoc justification for the actions of the monarch, "L'État, c'est moi"
It was, however, an ill-considered comment given that his administration had just that day opted to delay for the 27th time a critical element of his sweeping health care reform law; an act many believe to be beyond the constitutional bounds of the Executive Branch.
This conspicuously atonal joke was followed up by yet another conspicuously atonal joke, this time from the first lady. In preparation for a gathering at the White House, Michelle Obama tweeted out a picture of the first dogs, bejeweled, sitting at a porcelain and crystal-clad dining table.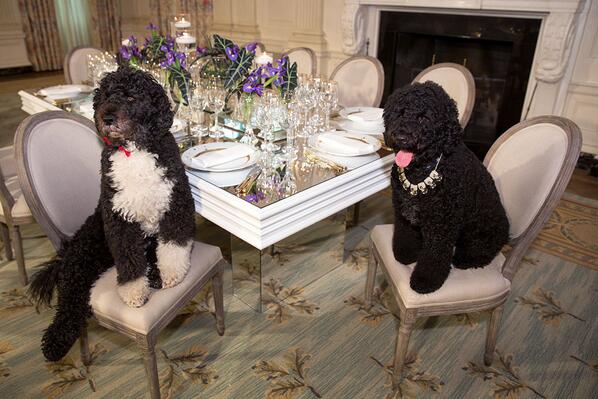 "Bone appétit!" she tweeted. This relatively cute image, designed as a joke, landed flat. In part, because the nation's labor participation rate is nearly a 40-year low and the past two months of jobs reports have been charitably described as "disappointing" and "weak." Further, reports indicate that the U.S. is unlikely to reach pre-recession employment levels for many years. America's economic mood is one of fretful apprehension.
These are both silly examples of the first family attempting levity. They will inspire genuine outrage in only the most partisan political observers. That said, the next Republican president would be well-advised to avoid touting his omnipotence and to ask his wife to abstain from elevating their dogs to a place at the dinner table amid widespread economic anxiety. The reaction to these statements from the press and other neutral political observers is unlikely to be so, to borrow from the French, blasé.
[Photo via AP]
— —
> >Follow Noah Rothman (@NoahCRothman) on Twitter
Have a tip we should know? tips@mediaite.com