Rupert Murdoch Eyeing LA Times, Chicago Tribune? Times Says Yes, News Corp No.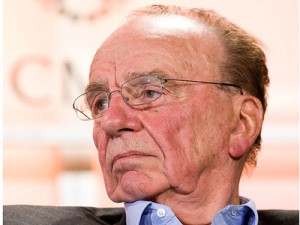 This week, the Los Angeles Times reported that various buyers have been involved in talks to purchase both it and the Chicago Tribune from Tribune Co. as the company prepares to emerge from bankruptcy with its debt holders at the helm. Most notable among those possible buyers? News Corp head Rupert Murdoch.
The news comes as no surprise to those close to the mogul, adds the Times, as they say Murdoch has long had his eye on the paper:
These people cautioned that talks are in the early stages, and that a deal is by no means certain. Other potential buyers have expressed interest.

Murdoch heads the world's largest news company, which includes the Wall Street Journal and the Times of London.

Acquiring the Los Angeles Times and the Chicago Tribune would give him strong footholds in the nation's three largest media markets: New York, Los Angeles and Chicago.

Murdoch's lieutenants say he has long wanted to buy The Times. On trips to Los Angeles, he is known to mark up the newspaper with a Sharpie pen to illustrate how he would design pages.
The Times cautions that "regulatory concerns and potential rival bids could stand in the way of an acquisition by a Murdoch-controlled publishing company," although the FCC may consider eliminating its rule preventing the ownership of a newspaper and TV stations within the same market, and does currently grant waivers in some instances.
Reuters, meanwhile, is reporting today that News Crop has denied news of a possible purchase, calling reports to the contrary "wholly inaccurate."
h/t LA Times
Have a tip we should know? tips@mediaite.com