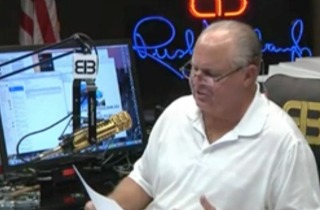 This has been a tough week for Rush Limbaugh. The conservative radio host spoke about America's "all-out assault" on the Confederate flag on Wednesday, blasted the Affordable Care Act's approval on Thursday, and on Friday, he said that the Supreme Court's ruling in favor of gay marriage meant that the words of the Constitution no longer have meaning.
"To me, a bigger casualty than the healthcare debacle and the socialism aspects of Obamacare is the assault on the Constitution and an even bigger casualty still was on the truth itself," Limbaugh said. "Words no longer mean anything, they're just tools for liberals to accomplish whatever ends they want to accomplish."
After touching on the Obamacare ruling and the "leftist agenda" as he went on, Limbaugh brought the discussion to Star Trek actor George Takei, saying that even with the SCOTUS ruling, LGBT activists will never be satisfied until their view have been impressed upon everybody.
"It's not about being accepted," Limbaugh said, "It's about forcing. It's about redefining. The use of force is involved here — intimidation, bullying, what have you — and George Takei signals there's more to come."
Limbaugh went on to say that Takei stood against personal freedoms by forcing businesses to face the politicalization of religious expression:
Nobody in the heterosexual world is forcing anything on anybody. They're minding their own business and having something forced on them, is what's happening here. So Mr. Takei says: Hey, you're free to have your religious beliefs. Have them all you like. I have mine, too. But you can't impose your religious values on to others.

But Mr. Takei and his group can impose their beliefs on you all day every day or you will lose your business.
You can listen to Limbaugh's segment here:
[Image via Screengrab]
— —
>> Follow Ken Meyer (@KenMeyer91) on Twitter
Have a tip we should know? tips@mediaite.com