Rush Limbaugh Disputes Idea That Palin Critic Charles Krauthammer Is 'Universally Respected'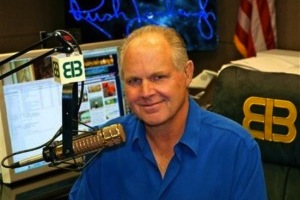 Conservative intellectuals like Charles Krauthammer and George Will have not been shy about their disapproval of Sarah Palin as a potentially serious presidential candidate. A new article in the American Thinker wonders why Republicans must bow down to Krauthammer, a former speechwriter for Walter Mondale, and now Rush Limbaugh weighs in and concludes that in today's media universe nobody, including Krauthammer, is capable of being universally respected.
Rush saw Krauthammer's appearance earlier this week on The O'Reilly Factor where Krauthammer slammed Palin as not being "properly schooled" and "not learned." Rush suggested that "George Will was not an early Reaganite" and neither was Krauthammer, which might explain to Rush why neither "respected" conservative is supportive of Palin. Yet this got Rush wondering who exactly earns respect today and why:
"Krauthammer in many ways has acquired this respect because in many of the venues he appears, he's the only conservative. On the local Washington opinion show on Friday night, he's it. Not so much on the Fox roundtable, but he's close . . . In the old days, Krauthammer used to say things that nobody else thought. He did have unique takes on things. And so the perception was what you got from Krauthammer was the truth."
In other words, Rush concludes Krauthammer's respect comes simply from him managing to "position himself on these shows as the lone conservative, like George Will." Rush admits that Krauthammer often provides unique and intelligent analysis, but suggests with so much media out there, "I don't think it's possible anymore to earn universal respect."
Rush then clumsily links "Weinergate" into this analysis, suggesting that he didn't need a juvenile picture of Congressman Anthony Weiner to confirm for him that Weiner should not be respected. Overall though, it seems like Rush was just eager to make it clear that Republicans should not take the words of Krauthammer or Will to be gospel. However, it's likely Rush has a different opinion regarding his own thoughts.
Listen to the clip below from The Rush Limbaugh Show:

Have a tip we should know? tips@mediaite.com