Michele Bachmann: Obama Speaks As If In A 'Parallel Universe' Where Economy Is Great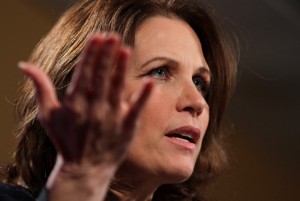 Republican Congresswoman Michele Bachmann spoke with Laura Ingraham today and unloaded on President Obama, while also delicately distinguishing herself as superior to leading Republican presidential candidates Mitt Romney and Tim Pawlenty. Bachmann described the meeting yesterday between House Republicans and Obama as disappointing, since there was hardly any time for a give-and-take and because Obama appeared visibly unhappy whenever Republicans pressed him on the budget.
Given the fact that Obama offered up no competing plan with how to reform Medicare, Bachmann concluded:
"This really is an administration that leads from behind. They don't want any responsibility. And to listen to the President yesterday, you would think that the economy was just fine. That his policies have produced this new change in America and that we're doing better than we've ever done before. Probably the most unreal statement that he said Laura, is that taxes are lower now than at any time in his lifetime . . . no one would believe that . . . He was in a parallel universe yesterday."
Bachmann then laughed at how Obama claimed he was going to listen to Republicans before then spending the entire time talking. Ingraham labeled it "typical Obama" in that he strives to give off "the appearance of bi-partisanship but in reality it's a one-way lecture." Bachmann agreed and concluded Obama "still is clueless to how horrendous the economic recovery is right now."
Finally Ingraham tried her best to get Bachmann to comment on Pawlenty's past support for Romney's universal healthcare plan in Massachusetts. Bachmann tried not to take the bait, but did let slip that unlike both Romney and Pawlenty who both changed their position on the idea for universal healthcare, Bachmann herself had "enough foresight and common sense" to always know such a program would never work in the first place.
Listen to the clip from The Laura Ingraham Show below:

Have a tip we should know? tips@mediaite.com