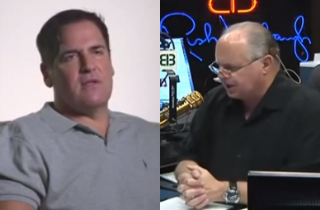 On Friday, Rush Limbaugh opened his radio show by diving into recent comments Dallas Mavericks owner Mark Cuban made about how own struggles with "bigotry" and "prejudice." Limbaugh did not seem to have any particular problems with what Cuban said, but was rather offended by his subsequent apology to Trayvon Martin's family for using a "black kid in a hoodie" as one example of who he would avoid on a dark street.

"I know I'm prejudiced and I know I'm bigoted in a lot of different ways," Cuban said at Nashville, Tennessee's GrowCo Conference. "If I see a black kid in a hoodie on my side of the street, I'll move to the other side of the street. If I see a white guy with a shaved head and tattoos, I'll move back to the other side of the street. None of us have pure thoughts; we all live in glass houses."
Limbaugh said that instead of apologizing, Cuban should have said he "misspoke" and really meant to say this:
"There is nothing more painful to me at this stage in my life than to walk down the street and hear footsteps and start thinking about robbery — then look around and see somebody white and feel relieved."
Of course, as the host revealed, that is quote by Rev. Jesse Jackson dating back to 1993. The fact that the prominent black leader had made a similar comment to Cuban's was also cited by Fox News' Greg Gutfeld on The Five Thursday afternoon.
RELATED: The Five Host Backs Mark Cuban: Not 'Bigoted' to Avoid Threatening Stereotypes
"Sound familiar?" Limbaugh asked. "The Reverend Jackson said that in 1993 and nobody tried to shake down his organization because of that." As for Cuban's apology, Limbaugh exclaimed, "Hoodie! We can't say hoodie now! We've got to say the 'h-word.'"
"So it looks like we're going to have to strike 'hoodie' from the English language," he added, "or at least shorten it now and refer to it as the 'h-word.'"
Also, for the record, if there was a black kid in a hoodie on one side of the street and a white guy with a shaved head and tattoos on the other side of the street, Limbaugh would be walking in the middle of the street.
Listen to audio below, via The Rush Limbaugh Show:
And you can watch Cuban's full remarks below, via Inc.:
[Photos via screengrab]
— —
>> Follow Matt Wilstein (@TheMattWilstein) on Twitter
Have a tip we should know? tips@mediaite.com