John Kerry Will Testify on Issa's Benghazi Committee, Not Gowdy's Select Committee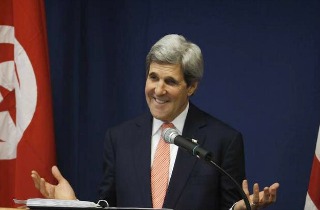 On Friday, the State Department announced that Secretary of State John Kerry will abide by a subpoena to testify before the House Oversight Committee and Chairman Rep. Darrell Issa (R-CA) regarding the events in Benghazi. Though he has not even been called to testify before the select committee on Benghazi chaired by Rep. Trey Gowdy (R-CA), Kerry preemptively announced that he would not participate in that committee's investigation.
Democrats have been insisting that Republicans are playing politics with the attack that claimed the lives of four Americans in 2012, but their actions suggest that it is the members of the president's party who are treating the Benghazi investigation like a political exercise. And this latest move from the administration is smart politics.
The Democrats disappointed their base by failing to boycott the committee, and this latest move is yet another effort to undermine the legitimacy of the select committee's proceedings. It sends the signal that the White House does not regard this investigation as a valid one, and it may go far to sooth the frustrations of Democratic partisans who agree.
While Democrats may be thrilled by Kerry's decision, no one could be happier than Issa. As The New Republic's Brian Beutler wrote on Thursday, Issa's actions – including the release of previously classified information regarding the White House's immediate response to the Benghazi attacks – indicates that he is "intentionally undermining" the select committee from which he was excluded.
The White House may be fracturing the Republicans investigating Benghazi. And the investigation has not even begun.
[Image via Zoubeir Souissi / Reuters]
— —
>> Follow Noah Rothman (@NoahCRothman) on Twitter
Have a tip we should know? tips@mediaite.com