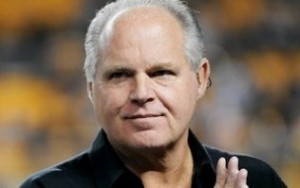 On his radio show today, Rush Limbaugh concluded that President Obama is trying to get the Republican party to "destroy itself." Why else, he reasoned, would he be trying to convince an ardently anti-tax party that they need to raise taxes on the wealthy in order to handle the fiscal cliff crisis? With Democrats pressuring the GOP to agree to tax increases in the fiscal cliff negotiations, Limbaugh could reach no other conclusion than the Democrats are trying to facilitate the destruction of their opposition. It would be a confession by the GOP taxing the rich more would do a lot to improve the economy.
RELATED: Limbaugh: Obama Telling GOP 'I Don't Respect You Little Dirtbags For As Far As I Could Throw You'
Limbaugh made it clear that any sign of capitulation on the part of the Republicans will be, basically, driving a stake through the heart of their core principles and leave a distaste in the mouths of their supporters.
"If Obama succeeds and ends up getting a confession from Republicans that tax cuts are the problem, tax cuts are the cause, what happens to the next Republican who campaigns on tax cuts? Not going to have a prayer."
Limbaugh attacked Obama and the education system for creating a "distortion" of American history to explain how the country's economic woes are in part to blame on lower taxes on the rich. He brought up a poll finding that Obama has not only won the argument on taxes, but now a sizable chunk of Republicans believe the president has a mandate to raise taxes on the top one percent of Americans.
Listen to the audio below:
—–
Follow Josh Feldman on Twitter: @feldmaniac
Have a tip we should know? tips@mediaite.com
Josh Feldman - Senior Editor