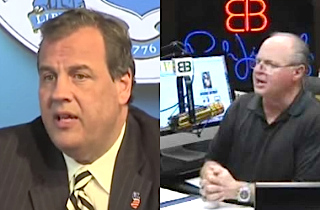 Rush Limbaugh has never been a huge fan of Gov. Chris Christie (R-NJ), but after this past weekend, he's taken his distaste for the possible 2016 Republican presidential candidate to the next level. On his radio show Monday, Limbaugh equated Christie's decision to institute mandatory quarantines for health workers returning from West Africa to the governor's post-Hurricane Sandy embrace of President Barack Obama. "We need to quarantine Chris Christie!" he said.
"One week before the election, once again, New Jersey Governor Chris Christie has caved," Limbaugh said before suggesting a "quarantine" of the Republican. "This is the second election in a row" he said, that Christie has ended up "arm-in-arm, hand-in-hand, in bed with" President Obama.
"I'm not a conspiracy theorist," Limbaugh insisted, "but I think Republicans ought to make sure that Governor Christie gets quarantined." It's "another Obama hug moment," he said, referring to days before the 2012 election when Christie and Obama came together to support the Jersey Shore following Hurricane Sandy.
There's just one problem with Limbaugh's assessment. Christie, along with Gov. Andrew Cuomo (D-NY) are not acting "hand-in-hand" with Obama by setting up their own Ebola quarantine policies. To the contrary, as The New York Times reported Monday, the White House is actively pushing back against the decision, with one senior administration official calling it "uncoordinated, very hurried, an immediate reaction to the New York City case that doesn't comport with science."
Another source told the New York Post that Obama is "furious" with the governors. Because of pressure from the White House, Cuomo and Christie have been forced to scale back the scope of their initial plan, allowing potential Ebola carriers to be quarantined at their homes instead of in government facilities.
Despite what Limbaugh has asserted, Christie was by no means embracing Obama with his actions on Ebola. In fact, Obama has been so cautious about not overreacting to the situation that some Democratic Senate candidates have called for stricter regulations such as travel bans in an effort to distance themselves from him.
Listen to audio below, via The Rush Limbaugh Show:
[h/t The Right Pundit]
[Photo via screengrab]
— —
>> Follow Matt Wilstein (@TheMattWilstein) on Twitter
Have a tip we should know? [email protected]