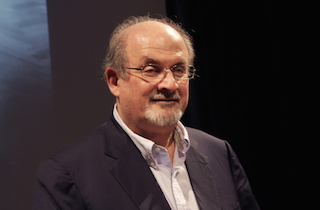 A PEN gala has emerged as the site of controversy due to its honoring of the slain Charlie Hebdo cartoonists, which caused six writers to withdraw their participation. On Monday infamous novelist Salman Rushdie, who knows a thing or two about being targeted for expression, called the decision "horribly wrong."
The PEN American Center is set to honor the cartoonists with the Freedom of Expression Courage Award at a gala on May 5. In response, six high-profile novelists (out of several dozens honorees) are boycotting the event over what The Flamethrowers author Rachel Kushner termed the magazine's "cultural intolerance."
"A hideous crime was committed, but was it a freedom-of-speech issue for PEN America to be self-righteous about?" novelist Peter Carey told the New York Times.
A dozen Hebdo cartoonists were gunned down in an attack several months ago instigated by the magazine's depictions of the Islamic prophet Mohammed. The incident sparked a virulent debate over free speech versus religious tolerance that continued up to yesterday, as Doonesbury cartoonist Garry Trudeau was forced to clarify his comments that Hebdo had "wandered into hate speech" with its cartoons.
The controversy began in March with a letter from writer Deborah Eisenberg to PEN's Executive Director Suzanne Nossel questioning the decision. The full letter is printed at The Intercept. In it she wrote:
I doubt there are many who consider the Charlie Hebdo cartoons to be models of wit, but what is at issue is obviously not the value of the cartoons. What is at issue are the various – confused, vague, and sometimes contradictory – symbolic meanings with which the magazine has been freighted in recent months, and exactly which of those symbolic meanings PEN is intending to applaud.

…It is difficult and painful to support the protection of offensive expression, but it is necessary; freedom of expression must be indivisible. The point of protecting all kinds of expression is that neither you nor I get to determine what attitudes are acceptable – to ensure that expression cannot be subordinated to powerful interests. But does that mean that courage in expression is to be measured by its offensiveness?

Apparently according to PEN it does.
Teju Cole, another novelist who withdrew from the gala in protest, had previously alleged that the magazine targeted Muslims for abuse, despite its equal-opportunity-offender reputation. "In recent years the magazine has gone specifically for racist and Islamophobic provocations," he wrote in The New Yorker in January, "and its numerous anti-Islam images have been inventively perverse, featuring hook-nosed Arabs, bullet-ridden Korans, variations on the theme of sodomy, and mockery of the victims of a massacre."
Rushdie, who was forced into hiding for over a decade after his novel The Satanic Verses led to a jihad against him, said he was friendly with several of the writers but strongly disagreed with their protest.
"If PEN as a free speech organization can't defend and celebrate people who have been murdered for drawing pictures, then frankly the organization is not worth the name," he said. "What I would say to both Peter and Michael [Ondaatje] and the others is, I hope nobody ever comes after them."
In a comment to The Intercept, Cole called himself a "free speech fundamentalist" but drew a distinction between Rushdie's case and Hebdo:
I'm a free-speech fundamentalist, but I don't think it's a good use of our headspace or moral commitments to lionize Charlie Hebdo in particular.

L'affaire Rushdie (for example) was a very different matter, as different as blasphemy is from racism. I support Rushdie 100%, but I don't want to sit in a room and cheer Charlie Hebdo. This distinction seems to have been difficult for people to understand, and any dissent from the consensus about Charlie Hebdo is read as somehow "supporting the terrorists," or somehow believing that they deserved to be murdered.
[h/t New York Times]
[Image via 360b / Shutterstock.com]
——
>> Follow Evan McMurry (@evanmcmurry) on Twitter
Have a tip we should know? tips@mediaite.com