Sanders: Saying You're Not a Racist Isn't Good Enough, 'You Need to Stand for Something'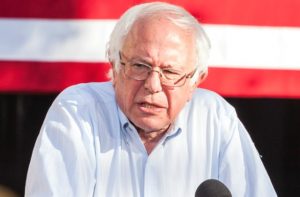 Bernie Sanders is continuing to speak out about how he thinks identity politics and just being "not Donald Trump" can't be enough for Democrats, seeing as how they just lost the election.
In a conversation with GQ, Sanders does credit Trump for understanding the true struggles of Americans, while still saying the idea Trump is a "champion of working families" who will take on the elites is a ludicrous one.
He affirmed that he's perfectly willing to work with Trump on policies that benefit the middle class. However, when asked if Trump's victory has the silver lining of pushing the Democrats to adopt more progressive policies, Sanders said, "No, I would not say that there's any silver lining in Trump's victory. It is scary."
However, Sanders then elaborated on his previous feelings about how identity politics and being too much about not being Trump hurt the Democrats:
I'm not a great fan of demographics. I think the assumption is that African-Americans and Latinos will vote against many Republicans because they perceive them as anti-immigrant or racist. Or [Republicans will be perceived as] sexist, and so women will vote. And that's fine. There's truth to that. But you can't run a campaign—you can't run a party—based on the facts that some of your supporters will vote against Republicans because of a, b, and c reasons: racism, sexism, homophobia. You need to stand for something! It's not good enough to say, "Well, I'm not a racist, I'm not a sexist, I'm not a xenophobe, I'm not a homophobe, you gotta vote for me." You need more than that! So it's not like they're just voting against somebody, they're voting for somebody. And I think that's where we have to radically sharpen our message.
Earlier this week Sanders said that telling people "I'm a woman, vote for me" isn't a good enough message either.
[image via BestStockFoto/Shutterstock]
— —
Follow Josh Feldman on Twitter: @feldmaniac
Have a tip we should know? tips@mediaite.com
Josh Feldman - Senior Editor