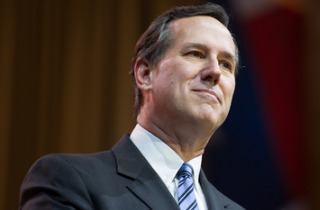 As Mitt Romney mulls yet another run for the presidency, more and more Republicans are emerging to criticize him as a candidate. Rick Santorum is one of them.
Speaking to the South Carolina Tea Party Coalition Convention, the former Pennsylvania Senator and one-time GOP presidential candidate criticized Romney for being out of touch with the concerns of common, not-rich Americans. "I ask you to make sure that you decide wisely," he said, according to Politico. "Someone who has a vision that can unite not just the conservative movement but the country, and do so to make sure we're safe and strong, to protect ourselves and America going forward."
And while he didn't name names, he was pretty clear that the potential candidate's name should not sound like Schmitt Schromney:
"Do you think wealthy people care whether their president cares about them? No," he said, referencing an exit poll question about which 2012 candidate cared more about the voters. "Who cares? Lower or middle income folks who are struggling. And guess what, our candidate only got [about] 19 percent of that vote. We better have a party and a movement that addresses and cares about the people who are losing hope and feeling like America doesn't work for them anymore."
It appears that if Santorum runs in 2016, he's attempting to position himself as a economic populist, with very little hint of the cultural conservatism that made him popular in the first place oh wait there he goes:
Santorum also lamented what he described as a broken immigration system, saying that people who were born in the United States are suffering in a job market flooded with immigrants. He said that the number of "native-born Americans working today" has declined, and that the majority of people working in newly created jobs are from elsewhere.

"So when people tell me the problem with the immigration system is just illegal immigration, they're wrong," he said.
Okay, it's still the same Santorum.
[Politico]
[Image via Shutterstock]
—
>> Follow Tina Nguyen (@Tina_Nguyen) on Twitter
Have a tip we should know? tips@mediaite.com