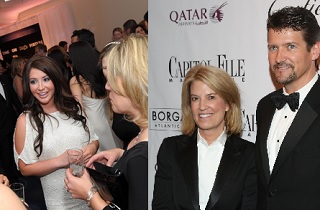 Man, people just hate a party that they weren't invited to! You can chalk Alaska Gubernatorial Resignee and Presidential Ticket Neck Anchor Sarah Palin up in the "I hate #nerdprom!" column, if her tweets are any indication. Palin bashed this year's White House Correspondents' Dinner as "pathetic," and its attendees as "assclowns," which means, by extension, that husband Todd Palin and daughter Bristol Palin must also be colonic comedians of a sort, since both have attended the dinner in the past. Palin herself skipped the 2011 dinner, but hit the pre-and-post parties, which would make her, what, an assclown groupie? Palin even had Rachel Maddow make her a drink at the (GASP!) MSNBC party: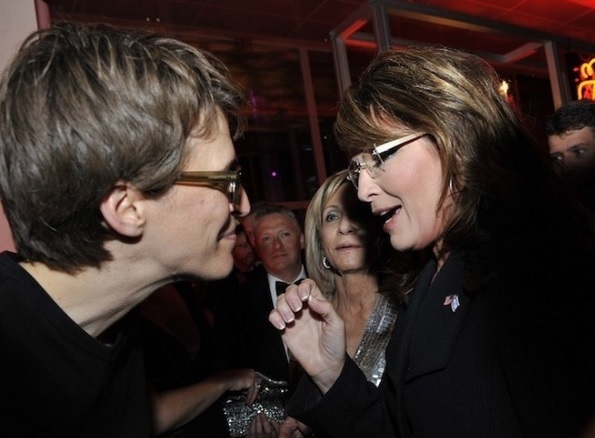 How'd that Kool-Aid taste, Sarah? Apparently, a lot better than the bitter taste of irrelevance.
The Washington Post's Rachel Weiner busts Palin, but good:
Palin has never attended the "nerd prom" herself, but in 2011 she showed up at both the Vanity Fair and MSNBC after-parties. Her daughter, Bristol, went to the dinner while Palin spoke to a group of antiabortion activists.

…In 2009 the then-governor was scheduled to attend (as a guest of Fox News) but canceled her plans due to emergency flooding back in Alaska. Her husband Todd attended in her stead.
Here's what WaPo reported on Palin's 2011 WHCD activities:
Sarah Palin walked into the Georgetown home of Mark Ein shortly before noon Saturday to dazzle a brunch crowd of Washington insiders and visiting luminaries. Black bell-sleeved summer dress, shiny hair. She and a clean-shaven Todd Palin posed for a few photos with hosts Wendi Murdoch and Susan Axelrod, then carved a path through the crowded dining room with their host for the weekend, Fox News's Greta Van Susteren. (** read more: Donald Trump vs. Sarah Palin at WHCD weekend **)

So, a win for Van Susteren, scoring the buzziest guest? (Her other guest, Kate Hudson, had to bow out for movie-promotion commitments.) Sure, but with an asterix, for Palin's not actually expected at tonight's White House Correspondents' Association dinner, Van Susteren's husband John Coale told us: "She's just doing the brunch and the after-parties."
This bit of media-baiting phoniness is just the latest in the former future vice president's slow-motion plunge, from conservative superstar to disappointing footnote. As usual, Palin wants to have it both ways, but you can't whine about the press letting them eat cake when you've got flecks of dried buttercream in your hair.
Have a tip we should know? tips@mediaite.com