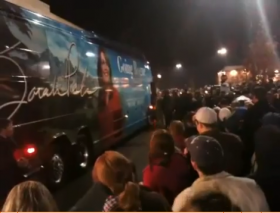 Oh, how quickly they turn. At yesterday's book signing in Noblesville, Indiana, Going Rogue author Sarah Palin was faced with an angry mob of her own fans who were turned away without having their copies signed. Many of the fans, who had been given wristbands entitling them to up to 2 signed books, had waited hours in the rain for the chance to meet Palin. While you can't blame them for being angry, some of the crowd's chants were surprising.
Local news station The Indy Channel pegged the dissatisfied Palinites at "a few dozen," while Rumproast had estimates from 100-300. The bookstore gave out 1,000 wristbands for a signing that began at 5:30, and ended around 9pm, when the store closes. It seems to me that, perhaps, the crowd's anger was misdirected at Palin, rather than the bookstore.
Even more strange, though, is that some of the crowd, who were such huge Palin fans that they waited hours to meet her, greeted her exit with boos and shouts of "Quitter," an obvious reference to her resignation as Alaska governor.
They also began chanting, "Sign my book!" an obvious reference to the fact that she hadn't signed their books. For such devoted fans, they weren't very charitable to Palin.
That said, let's put this into context: According to IndyChannel's "6 News," out of 1000 fans, "900 walked away happy." Apparently "Palin's folks pulled the plug" on the book signing at the event's end time — which left that rogue 100 with their Borders-issued wristband and an unsigned book. That signature was just that — a signature; according to the report: "no personal signatures or pictures with Palin were allowed. Those who didn't get their book signed went home with only a piece of paper with Palin's name on it." No one apologized for the snafu, and, according to Rick Hightower of 6 News, those left out were nonplussed. Hence, it would seem, that rogue video.
The 6News video report is a nice little slice of how these events can go, if you've got the 2 minutes 15 seconds. It shows the good (brisk, orderly signing; perfectly-staged greeting before her shiny bus) and the bad (cranky people confused about who to blame, Palin or Borders, so just blaming whoever; news story focusing on the disgruntled 10% of the audience). It also shows her drawing power: here's the crowd that showed up (in the rain!) to patiently await her arrival: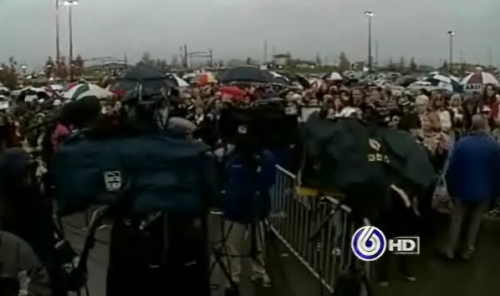 …Palin before her bright shiny bus, effusively thanking the crowd: "Noblesville, this was so great. You guys are hardcore patriots. Thank you so much for being here!"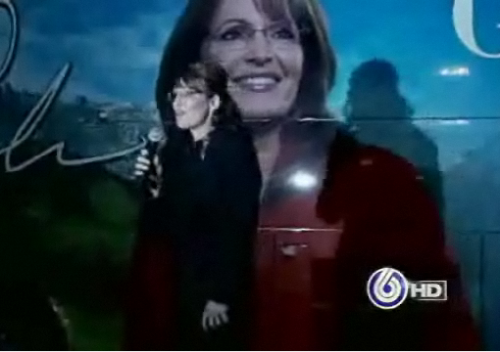 …Palin's signature on her book (no personalized messages or photos, please!):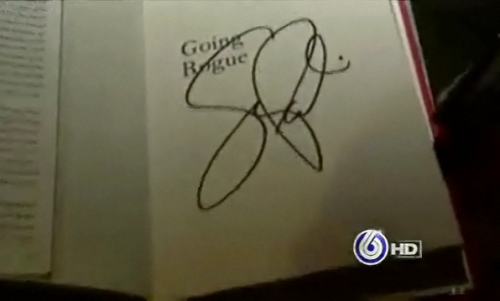 …and an indication of the kind of buzz people are expecting here, as 6 News tries to corner the Noblesville traffic with no less than 12 related links, including a slideshow. Who says the MSM can't adapt? Meanwhile, the liberal media's got no reason to complain about Sarah Palin: She is, as usual, a traffic juggernaut. A rising tide lifts all boats, etc. etc.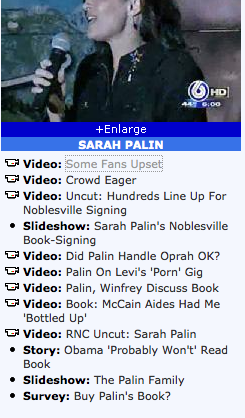 — With Rachel Sklar
Have a tip we should know? tips@mediaite.com