Sarah Palin Endorses Independent-Democratic Ticket over GOP for Alaska Governor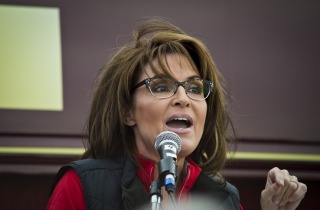 Former Alaska Gov. Sarah Palin has endorsed a candidate for Alaska's governor's race. Current Gov. Sean Parnell (R), who was Palin's lieutenant governor and assumed his current job when Palin abruptly resigned in 2009, did not win Palin's endorsement. Instead, Palin threw her support behind a former-Republican-turned-Independent candidate and his Democratic running mate.
Yes, the Sarah Palin who has spent hours on the campaign trail this election season campaigning for Republicans did not even endorse the incumbent Republican in her own state, who also happens to be her former lieutenant governor.
Dubbed the "unity ticket," Bill Walker and Byron Mallott received the endorsement at a reception at Palin's Wasilla home this week. According to the campaign's press release, Palin said she "trust[s] them to develop our God-given resources responsibly and to the maximum benefit of Alaskans."
So why did Palin ditch her party and her former political ally? According to the National Journal, Palin was not happy when Gov. Parnell last year scrapped her oil tax increase, which she viewed as one of her greatest accomplishments in office. Critics have said Parnell's measure could drastically diminish the state's revenue because 90 percent of the Alaska government's funds come from these taxes.
Palin voiced her support for a referendum during the Alaska state primary that would have repealed Parnell's measure. That referendum narrowly failed, and the two have been at odds ever since.
[Image via Shutterstock.com]
— —
>>Follow Andrew Desiderio (@forza_desiderio) on Twitter
[Note: Mediaite intern Andrew Desiderio is a student at The George Washington University.]
Have a tip we should know? tips@mediaite.com