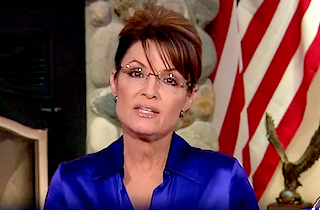 Hey! Hey, guys! Someone else is thinking about running for president in 2016! Guess who it is?
It's Sarah Palin. Sort of.
The former Governor of Alaska is headed down to the Iowa Freedom Summit, along with every other potential GOP candidate, but was caught by ABC in Las Vegas at a soup kitchen as she promoted the second season of her outdoor hunting show, Amazing America.
"Yeah, I mean, of course," she said, when they asked whether she was interested in the 2016 election. "When you have a servant's heart, when you know that there is opportunity to do all you can to put yourself forward in the name of offering service, anybody would be interested."
Then ABC asked her if she herself was thinking about a potential candidacy. Read between the lines and figure out what she means:
When asked again if she could be "possibly" interested in a presidential campaign, she answered, "We definitely had enough of seeing that — America has had enough of seeing that — sign on the Oval Office door saying, 'No Girls Allowed.' I know that."

While serving up bowls to those gathered in line, the former Alaska governor clarified, "It doesn't necessarily have to be me, though, but no, America is definitely ready for real change.

"It doesn't have to be myself, but yes … happy to drive that competition, because competition will make everyone better and produce more and be more candid regarding their solutions they will offer this country. I am very interested in that competitive process and, again, not necessarily me."
So she is interested in running, but not to win, but maybe to "drive that competition" and "make everyone better," but the candidate doesn't "necessarily" have to be her?
She's got a book coming out. Calling it.
Watch the clip, via ABC News below:

World News Videos | ABC World News
[ABC News]
[Image via screenshot]
—
>> Follow Tina Nguyen (@Tina_Nguyen) on Twitter
Have a tip we should know? tips@mediaite.com