Scarborough Rips Gingrich Over 'Grotesque' 'Anti-Government Conspiracy' About Mueller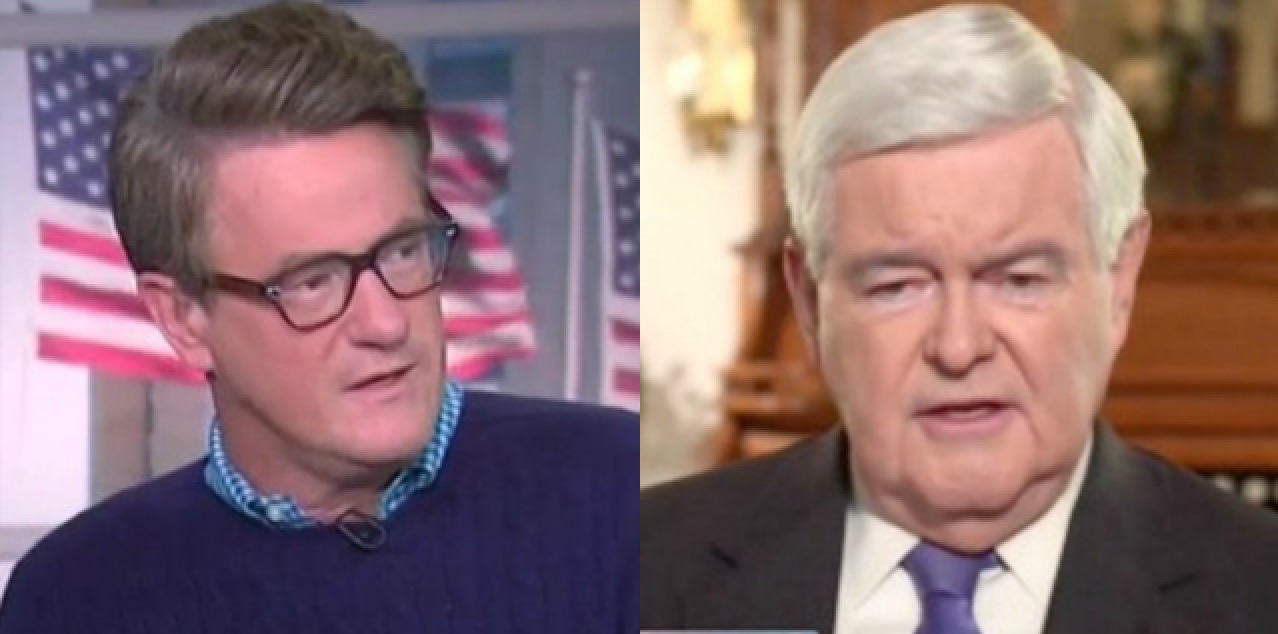 Joe Scarborough is blasting Newt Gingrich on Twitter after the former House Speaker once again smeared special counsel Robert Mueller over his investigation of President Trump's potential connections to Russia.
Though he initially praised Mueller, Gingrich has recently been promoting the idea that the former FBI director cannot be fair and impartial in his investigation. Gingrich has championed this notion while basing it on hostility towards Trump from the political left.
On Thursday, Gingrich released a series of tweets where he slammed Mueller over the reports that Trump is facing an investigation for obstruction of justice. Gingrich called it a sign that Mueller is a member of the "deep state" determined to thwart and destroy Trump's momentum.
WPost headline"Trump's actions now a focus now a focus of Mueller inquiry". What happened to Russia?anti-Trump focus of "special" counsel

— Newt Gingrich (@newtgingrich) June 15, 2017
Muelleris now clearly the ti[p of the deep state spear aimed at destroying or at a minimum undermining and crippling the Trump presidency.

— Newt Gingrich (@newtgingrich) June 15, 2017
Mueller is setting up a dragnet of obstruction, financial questions and every aspect of Trump's life and his associates lives.very dangerous

— Newt Gingrich (@newtgingrich) June 15, 2017
The brazen redefinition of Mueller's task tells you how arrogant the deep state is and how confident it is it can get away with anything

— Newt Gingrich (@newtgingrich) June 15, 2017
Scarborough took notice, and he's clearly not impressed:
It is hard to overstate how reckless the fanning of this anti-government conspiracy is the day after a mass shooting aimed at congressmen. https://t.co/zOkf4Pi91z

— Joe Scarborough (@JoeNBC) June 15, 2017
This is grotesque and fans the flames of rage among the unbalanced. What exactly is the price of an ambassadorship these days? https://t.co/zOkf4Pi91z

— Joe Scarborough (@JoeNBC) June 15, 2017
How dare you smear a man who served this country honorably for decades in both war and peace, winning the Bronze Star and Purple Heart. https://t.co/mocM57mq7x

— Joe Scarborough (@JoeNBC) June 15, 2017
Newt, whatever you think you're getting in return for obsequiously sliming an American hero, I guarantee you it's not worth it. Stop.

— Joe Scarborough (@JoeNBC) June 15, 2017
[Image via screengrab]
— —
>> Follow Ken Meyer (@KenMeyer91) on Twitter
Have a tip we should know? [email protected]