Scary (For Scott Brown) Photo Of Elizabeth Warren Volunteer Meeting Goes Viral
For someone running in her first-ever election, Democratic candidate for US Senate Elizabeth Warren certainly has a knack for attracting attention. From her viral video rebuke of dismissive "class warfare" rhetoric, to her feudlet with incumbent Scott Brown over his modeling career, her fledgling candidacy is gathering momentum at the polls, and in the war chest. Now, a photo that Warren took at a campaign volunteers' meeting Tuesday has become political geek porn for progressives eager to take back the Ted Kennedy seat.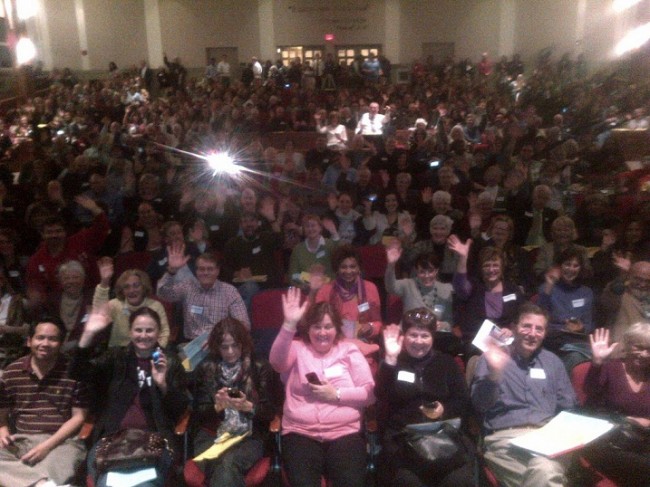 As Mother Jones' Nick Baumann points out, a turnout like that would be impressive no matter what, but for a US Senate race that's still 13 months away? This photo might as well be a hoard of Orcs large enough to make Gandalf crap his pants. In my pre-journalism life, I volunteered for presidential campaigns, in America's most densely populated state, and I never saw anything like this at a volunteers meeting. According to a source within the Warren campaign, around 500 people showed up to Tuesday's volunteer meeting in Framingham, the candidate's first. The next one is scheduled for Nov. 2 in Brockton. (Side question: do all towns in Massachusetts sound like joke names from The Simpsons?)
Warren's national reputation as a Wall Street watchdog, enhanced by her spiritual connection to the Occupy Wall Street movement, have made her into a fundraising juggernaut, and perhaps the candidate of the moment. Like the Tea Party in 2010, Warren's candidacy seems to have an energy behind it that should give Scott Brown a lot to think about, and which Democrats ought to figure out how to emulate. As long as Warren can avoid being filmed out in front of Fenway Park shouting, "Paging Dr. Heimlich!", she looks to be in great shape to take back the seat that Martha Coakley handed to Scott Brown.
Update: This afternoon, Elizabeth Warren sent an email to supporters that included the photo, with the subject line "There's something happening here." Here's the full text of Warren's email:
Tommy,

There's something happening here in Massachusetts.

I see it as I travel across our state, meeting hard-working men and women who know that the deck has been stacked against them for far too long, people who just want a fair shake again — and want leaders in Washington who will fight for them.

Just take a look at this photo I took from the stage in Framingham Tuesday night — a packed house and tons of enthusiasm for our campaign's first volunteer organizing meeting:




This is what a real grassroots campaign looks like: A campaign not accountable to Wall Street and its armies of corporate lobbyists, but to working families in Framingham, in Springfield, across the Commonwealth, and around the country who know that we can — and must — do better.

The early days of this campaign have been so inspiring, and I'm glad that you're a part of it. But we have so much work to do, so many powerful interests lining up against us, and we have to keep the momentum going.

Click here to share this inspiring photo with your friends on Facebook, or post it on Twitter. Show everyone you know the energy of our grassroots movement for the middle class — and invite them to join us.

Together, we can make sure that working families in Massachusetts and across America have a chance to get ahead again. But to do it, we need to keep our grassroots campaign growing strong over the weeks and months ahead.

Thank you for being a part of this,

Elizabeth
Have a tip we should know? tips@mediaite.com