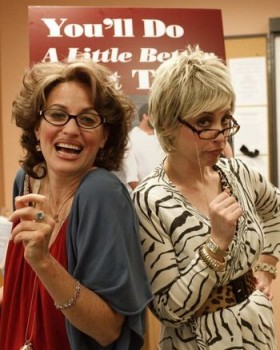 What do you do if your TV pilot finally gets made — in the middle of a media meltdown and the worst recession in years? And what do you do if it isn't picked up, but at the last minute, randomly, gets scheduled to air? In the olden days (read: a few years ago), you told all your friends to watch it, crossed your fingers and prayed. Today, you send the word flying through Twitter, Facebook and every other social medium you can think of — and suddenly, you've got a movement.
That's what's happening right now to Ronna & Beverly.
Ronna & Beverly are two Jewish divorcees of a certain age pushing their dating self-help book, You'll Do a Little Better Next Time: A Guide To Marriage and Remarriage For Jewish Singles. They're pushy, impolitic, materialistic, neurotic and completely without a filter. They are occasionally shocking, eerily familiar, and pretty damn hilarious.
Ronna & Bev are not real people — except insofar as you may be have grown up around them, or
God forbid, be related to them. They are the incarnation of your worst Jewish mother-in-law or Passover seder nightmare, created by LA-based comedians Jessica Chaffin and Jamie Denbo, longtime fixtures of the LA comedy club scene — and now, the subject of a new Showtime pilot that just might have a shot.
Called "a Jewish 'Ab Fab'" by Variety, Chaffin and Denbo originated Ronna & Bev four years ago this Hanukkah (and have sported the same black leather pants and/or the same egregious lipliner ever since), but this is the first time they've ventured into scripted territory. Their stage show has bits, of course, but it's in the vein of 'outlandish character interviews real person' à la Ali G or Zach Galifianakis, except with less angry newspeople or awkward silences. It's largely improvised and usually features big names from the LA-NY comedy/entertainment scene: Will Arnett, Amy Poeler, Jon Hamm, Eli Roth, Ed Helms, Kate Walsh and New Kid on the Block Joey McIntyre, plus comedy-world faves like Paul F. Tompkins and Jim Gaffigan. They cover ground from gossip to current events to politics to please say
hello to your mother, and audiences on both coasts were eating it up, so they got together with Weeds creator/executive producer Jenji Kohan — who had cast them both in Weeds based on loving the characters — and decided to take it to the next level.
(It is at this point that I disclose that I am friends with Chaffin, Denbo & Kohan, but go ahead and check out the audience response to the videos below, and you can be the judge. But also, I saw Ronna & Bev long before I knew them personally, and found them just as hilarious. I should also disclose that as a Jewess of a Certain Age I may be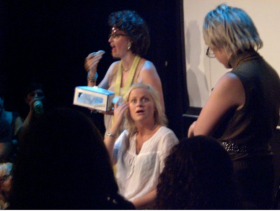 predisposed to find their schtick funny, but also, I've known a few Ronna Glickman and Beverly Ginsbergs in my time. Anyhow, Ronna and Beverly are not exactly the story.)
What is the story: What happened after. Chaffin, Denbo and Kohan co-wrote the script, and Kohan exec-produced it for Showtime and Lionsgate TV, directed by Freaks & Geeks creator Paul Feig, who has also directed episodes of The Office, Arrested Development, 30 Rock, Weeds and Parks & Recreation. Alas, despite strong feedback from Showtime, the network did not pick it up, or any pilots, for that matter.
Which brings us to now. A few weeks ago, Showtime told the pair that "Ronna & Beverly" would get an air date after all — for 'amortization' by Showtime (i.e. to write off as a loss), but still, an air date is an air date. Furthermore that air date is actually a few air dates, and not during the graveyard shift, either: "Ronna & Beverly" airs tonight at 9:05 p.m. on the East Coast, and just after midnight (so technically tomorrow morning) at 12:05 a.m. on the West Coast — and airs again at the same times on Dec. 29th.
So now what? Promote the hell out of it. Per Variety:
The upcoming airings are strictly an amortization move by Showtime, but Chaffin and Denbo are marshalling the power of Facebook et al and their friends in the comedy community to spread the word about "Ronna and Beverly's" TV bow.
Which means tweets from the following yesterday alone: Rob Corddry ( 1,269,115 followers), Time magazine's Joel Stein (1,023,182 followers), The Sarah Silverman Show's Steve Agee (1,083,962 followers), The Daily Show's Rob Riggle (997,858 followers), Diablo Cody (115,202 followers), Reno 911's Thomas Lennon (29,037 followers), Wet Hot American Summer's David Wain (26,519 followers), Human Giant's Paul Scheer (25,900 followers) — and already tons of retweets from all these people, plus from director Feig (1,095,766 followers).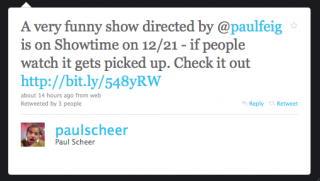 Similar cross-pollination is going on at Facebook, but Twitter is really where results are being so quickly seen. Even if a lot of the same people follow the slice of the comedy world above, still — what an audience to put on alert in a flash — and what a signal to send to followers that, huh, all these people are tweeting about this, I should check it out. I've written before about the viewing power of the comedy community via Funny or Die, and the Upright Citizen's Brigade community (with which there is plenty of overlap) also has a powerful, interconnected network of people which has begun mobilizing (Scheer and Riggle are prominent members, but so are people you may not know but are big in the UCB world like Jackie Clarke, Eliza Skinner, Nick Kroll, Seth Herzog and Justin Purnell, all of whom have tweeted about the show).
And all this before the Jews even get in on the action. Let alone the Jewish mothers. Oy.
Will it result in viewership? Who knows — reading a tweet does not necessarily correspond to IRL action (that's "In Real Life" in cyber-speak for you newbies out there). But there's no question that this is a new model for marketing a TV show, especially at the pilot stage, and if Showtime executives are smart they'll watch not only how "Ronna & Beverly" performs tonight on each coast, but also how the word builds online and whether that moves the needle on Dec. 29th. Who knows if Showtime meant to give Ronna & Bev a fighting chance by choosing these windows — they could have scheduled it at 3 am and left it at that — but the positive buzz building for the show, as well as the years of relationships that Denbo and Chaffin have built in that community seem now to be coming home to roost. (I bet Feig wishes there had been an Internet back in the time of Freaks & Geeks.)
Either way, this is once again a fascinating story of not only how the Internet is changing things, but how social relationships on the Internet can matter so very much — especially when those relationships are with key influencers in niche communities. It's early yet, but I'd say Ronna & Bev are well on their way to tapping into something interesting. We'll see if it translates to ratings. Showtime, you really should be paying attention.
(p.s. This isn't a review of the pilot, though I've seen it — I found it hysterical, though since Ronna & Bev are outlandish characters who say mortifying things, well, warning: you may be mortified. Right from the start. Contains some excellent pink outfits, some nudity, a sex scene that made my jaw drop, a surprisingly tender moment after and an exhortation not to wear a sweatsuit in public. Also contains trayf.)
It's Showtime For Ronna & Beverly [On The Air – Variety]
Ronna & Beverly – Schedule [Showtime]
Showtime gives "Ronna & Beverly" a shot at midnight to spread the Jewish Ab-Fab word [The Comic's Comic]

Related:
'Weeds' creator to co-write 'Ronna and Beverly' [Variety]
Jenji Kohan Creates "Ronna and Beverly" for Showtime [My Urban Kvetch]

>>>NEXT: Ronna & Bev Interview Will Arnett, Rachel Dratch, Eli Roth and Have A Message For Baruch Obama

"Ronna & Beverly" airs on Showtime tonight (9:05 pm east coast and 12:05 am west coast, technically tomorrow.)
Have a tip we should know? tips@mediaite.com