Sen. Jeff Sessions: Why Does Elena Kagan Oppose Don't Ask Don't Tell But Not Sharia Law?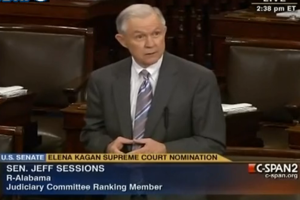 Alabama Republican Senator Jeff Sessions questioned the strength of Supreme Court nominee Elena Kagan's moral principles today. Sessions argued that Kagan's opposition of military recruitment on the Harvard campus– which she called a discriminatory group due to its Don't Ask, Don't Tell policy– was hypocritical as she did not also protest against the creation of a new Center for Islamic Studies "and Sharia Law."
Sessions, who spoke on Kagan as a ranking member of the Senate Judiciary Committee, attacked Kagan for being "less morally principled in her approach than has been portrayed," and questioned why she did not speak out in 2005 when a Saudi prince donated $20 million to the creation of a Center for Islamic Studies at Harvard. This showed a double-standard, he argued, because some Muslims follow Sharia Law literally, in which homosexuality is sometimes punishable by death:
"Around the same time that Dean Kagan was campaigning to exclude military recruiters, citing what she saw as the "evils of Don't Ask Don't Tell," Harvard University accepted $20 million from a member of the Saudi royal family to establish a Center for Islamic Studies and, uh, Sharia Law… she was perfectly willing to obstruct the military, which has liberated countless Muslims from the hate and tyranny of Saddam Hussein and the Taliban, but seems she was willing to sit on the hands– sidelines as Harvard created a center funded by and dedicated to foreign leaders presided over a legal system that would violate what appear to be her positions."
In actuality, the Center for Islamic Studies, unlike the military, was not meant to be an extracurricular, optional activity but, rather, a mini-school with its own set of professors who would teach on Islamic culture and society. The "Sharia Law" part of that center seems to have been made explicit only to Sessions, as well, as the original report from the time that the Saudi prince donated the money describes the allocation of funds as being explicitly "to launch a University-wide Islamic studies program and to endow four senior professorships, according to a press release. The gift will also fund a new initiative, the Islamic Heritage Project, which will digitize classic Islamic texts and make them available via the internet." So perhaps some of the tenets of Sharia Law, thanks to this initiative, are now on the internet, but nowhere in the 2005 Crimson report does it say that employees and fellows at the Center for Islamic Studies would have to live under Sharia Law, the way LGBT members of the military would have to live under Don't Ask, Don't Tell. Also, as a separate school, Kagan did not have any jurisdiction over it the way she would have over an extracurricular activity (like ROTC) existing on her campus– protesting the Center for Islamic Studies wouldn't be much different for a Dean of Harvard Law School to do than, say, protesting the Kennedy School of Government's existence.
Video of Sessions' comments earlier today below:

Have a tip we should know? tips@mediaite.com