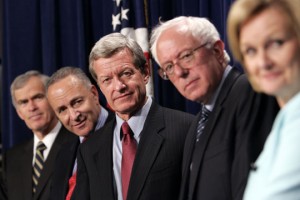 For 73 days now, I have been investigating the $80 billion deal struck between the PhRMA lobby, the White House, and the Senate Finance Committee. Specifically, I've been trying to find out why the White House and the Finance Committee didn't disclose a monumentally important fact when I asked them about it in June, only to have it leaked by the PhRMA lobby in early August, and confirmed by the White House.
I've also asked several questions about the origins of a memo that was published by Huffington Post, purportedly containing details of a July 7 meeting between the 3 parties, and for a list of attendees of that meeting.
While the White House says it is still working to fulfill my request, the Finance Committee, after nearly daily followup by me, has taken a different route. A staffer from the committee confirmed to me, in an extraordinary admission, that both of the committee's press secretaries have issued a standing order to blow me off whenever I call. Specifically, they have been instructed to tell me that Jennifer Donohue and Erin Shields are not in, regardless of the truth of that statement.
Why is this story important? The White House entered into a bad deal with PhRMA, one that was brokered by Senator Max Baucus' committee. Baucus is considered, by many, to be compromised by the amount of cash he has accepted from the healthcare and pharmaceutical lobby, and his ties to lobbyists. The deal gets worse and worse as more of it is revealed.
The fact that when asked about the biggest problem with the deal (the fact that it came with a provision that no other concessions would be sought), the White House didn't know and the Finance Committee wasn't saying, tells me that perhaps the President has turned too much control of this process over to bad faith negotiators. The fact that the committee concealed this fact from me, a representative of the press, is unacceptable. If that fact had been known just after the deal was struck, perhaps something could have been done to improve it. In any case, the people asked, and had a right to an answer.
It is the duty of the press to hold our leaders to account, and it is the duty of those leaders to respond to us. We represent the American people as surely as they do. When I called today, and the staffer who answered the phone was forced to lie to me, all of you were lied to as well.
Have a tip we should know? tips@mediaite.com