Senate Press Gallery Says Vice President Biden's Office Did Not File Complaint Against Jason Mattera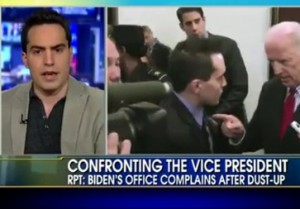 In an interview with Fox and Friends' Steve Doocy this morning, Human Events ambush journalist Jason Mattera talked about his now-famous (or infamous?) bushwhacking of Vice President Joe Biden, alleging that he is now being investigated by "the Senate Gallery and the Vice President's office" over the tactics he used to gain access to Biden.
Since then, though, the chair of the standing committee on correspondents has said that no complaint has been filed.
I've already registered my objection over the content of Mattera's question and his misogynist attitude toward Biden's staff.
In his Fox and Friends appearance, Mattera brought up a Washington Post fact check of the figures that VP Biden has been using in speeches, figures that were given to him by the City of Flint, that shows discrepancies between the city's figures and FBI stats. FactCheck.org also ran the numbers against FBI and State Police stats, and concluded that while Biden "misrepresented the extent of the city's crime problem — flagrantly so, in the case of rapes," the crime problem in Flint "is real." Biden's central point, that drastic cuts to law enforcement carry with them the risk of increases in violent crime, is a valid one.
Mattera and Doocy also claim that the "Senate Gallery and the Vice President's office" are investigating Mattera, which is a bit of an overstatement. The Hill reports that Biden's office "contacted the standing committee of correspondents, which oversees the gallery, regarding whether Mattera broke the rules by ambushing him."
Heather Rothman, who chairs the standing committee on correspondents, confirmed that the Vice President's office contacted her about the matter, and that "It's being discussed."
This evening, though, Rothman told Mediaite, "No formal complaint was submitted, and the Executive Committee has no plans to meet at this time."
Dave Weigel, who would know, pointed out that Mattera didn't break any rules, and based on my limited experience covering the Hill, I agree. It's clear, and always was, that Mattera wouldn't have his credentials pulled over this, and Biden's office didn't even filed a complaint against Mattera. Now, if he were to suddenly have his credentials yanked for some other, unrelated violation (like eligibility), that would smack of retaliation.
To the extent that the committee was "discussing" this, though, it was likely to figure out a way to make as small a deal as possible out of this. Credentialing decisions have nothing to do with who you are, or who you work for, but rather, do you fit all of the checkboxes. They're not in the business of settling muddy ethical quandaries. There's no indication that they ever "investigated" Mattera, beyond that.
Mattera told Mediaite Managing Editor Colby Hall that he hasn't been contacted by the committee. "The press galleries are made up of reasonable people. They know Biden's complaint is absurd on its face. I violated nothing. Having said that, I'm happy to teach a seminar to the drones in the media on how to approach and ask politicians questions. I'll even do it for free because the economy is so bad right now."
I've said, many times, that I have no problem with reporters pushing the limits (within certain boundaries) to get access they otherwise wouldn't. Hell, I was probably among the first reporters to be rousted by then-Sen. Obama's Secret Service detail for sneaking past a checkpoint to get some video of the view from that ostentatious Denver podium, and even though everybody at the White House knows I'm a flaming liberal, I still get a dirty look every time I ambush whatever White House official is wrapping up a standup with an important reporter. Whoever you are, the scrappy little guy is, at best, an annoyance to politicians whose job it is to push their message, and avoid being thrown off it.
When it comes to pushing through barriers to a free press, I'm right there with Mattera, and whether he sticks the landing or not, he deserves credit for moxie. The starstruck fan act is part of Mattera's consistent MO, and as Weigel points out, probably wasn't necessary. I asked Mattera if he thought Biden would have responded without the subterfuge, and he told me it was "Inconsequential because it begs the question that there was something inappropriate in what I did. There wasn't."
That's debatable, though. The use of the false pretense, when absolutely necessary, is ethically sound, but should be avoided, if possible, because it can give the unfair impression that the subject is necessarily evasive. In Biden's case, he barely missed a beat in answering Mattera's question, if a bit forcefully. Still, it was a very minor deception, one that Mattera likely planned in advance, and couldn't easily abandon at the last second. I wouldn't have done it, but I reserve the right to when the Cain administration takes over.
I also don't blame Mattera for feeling a bit persecuted here, but even though he didn't break the rules, I don't think Biden's office was off-base in contacting the standing committee. I've worked in the White House, the Hill, and the Eisenhower Executive Building, and the Capitol complex is a much more difficult environment to control, from a security standpoint. That anyone, especially someone with a strongly adversarial attitude, would use a false pretense to get so close to the Vice President is bound to set off some alarm bells.
Mattera dismisses that idea. "This exchange took place in a Senate building where you have to clear security to even get in, as you know," he told me, via email. "The attention should be on Biden's retaliation, not over some petty picture, as some are making this out to be."
Again, there was never any indication that a complaint was filed, or that anyone was investigating anything, or that there has been, or will be, any "retaliation," but if the situation were reversed, and Vice President Bachmann's office was calling the standing committee about me, I'd probably feel the same way.
Mattera also told us that he thinks someone actually did take a picture of him with the Vice President, but he doesn't know who it was. If the mystery photog is reading this, let us know. "I'd love to get it autographed by Uncle Joe!" Mattera said, characteristically.
The comments from Jason Mattera in this article were obtained before Rothman issued her statement.
Here's the clip of Mattera's interview, from Fox and Friends:
Have a tip we should know? tips@mediaite.com