Senator Gives News Outlet 'Exclusive' Photos of Ukrainian War That Are Six Years Old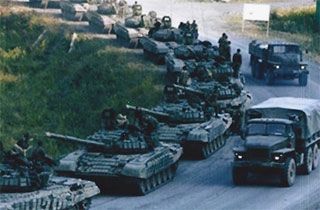 Sen. Jim Inhofe (R-OK) has a bit of explaining to do after he provided the Washington Free Beacon with a cache of "exclusive" photos proving Russia's involvement with the Ukrainian separatist movement — depicting charred and headless corpses — only to be called out for using old photos from 2008.
An extensive article published by the Free Beacon (Warning: graphic) posted a series of photos given to them by Inhofe, who serves on the Senate Armed Services Committee. Four of the photos allegedly depict "Russian troops… entering Ukraine on T-72 tanks and Russian-made BMPs," and the other gruesome photos show "the remains of Ukrainian soldiers killed by Russian troops and weapons," as well as "the burnt bodies of Ukrainians hit by thermobaric weapons."
Inhofe and his staffers claimed that the photos were further proof that the US needed to ramp up their assistance to Ukraine, perhaps by providing them with weapons, in order to strike back at Vladimir Putin. "The Obama admin is so slow to recognize" Russia's involvement, Inhofe told the Free Beacon. "They just don't want people to believe these things are happening."
Less than two hours later, after several internet commenters pointed out the discrepancies in some of the photos, the Free Beacon published this correction (emphasis ours):
Several images of the Russian convoys appear to have been taken in 2008, during Russia's conflict with Georgia. Given the similarities between the earlier images and those provided by the senator's office, the Washington Free Beacon is investigating further and will update as necessary.

When asked about the discrepancies, Donelle Harder, Inhofe's communications director, said that the office is checking back with its sources.

"These were presented to the Armed Services Committee from a delegation from Ukraine in December," Harder said. "In December, we talked to them about publishing the photos and giving them the credit, and they were fine with that. We thoroughly checked our sources again prior to releasing the photos, and felt confident proceeding because the photos also match reporting. We are currently making calls to our sources."
But let's talk about how really, really easy it is to find these photos online. Popular Science's Kelsey Atherton has a long list of Twitter users sourcing the photos within an hour and pointing out edits, but the guy below sums it up quickly:
So @jiminhofe's "new intel" on Ukraine armor consists, in part, of 2 photos from Ossetia, 1 AFP wire service photo cc @FreeBeacon

— Dan Trombly (@stcolumbia) February 12, 2015
This contrasts with Sen. Inhofe's initial statement that he "worked to independently verify and confirm the authenticity of the photos," according to the Free Beacon.
[The Washington Free Beacon]
[Image via AFP/SofiaEcho]
—
>> Follow Tina Nguyen (@Tina_Nguyen) on Twitter
Have a tip we should know? tips@mediaite.com