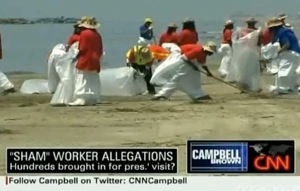 Earlier today, President Obama was in the Louisiana Gulf town of Grand Isle, where he made a statement in front of the press while surrounded by area Governors. Obama said "This is our highest priority and it deserves a response that is equal to the task." Alas, reports have surfaced that today's actual clean-up response in Grand Isle was but a mere PR stunt by BP. They were a "sham crew" bussed in by BP for the event.
Writing for The Times-Picayune, Richard Rainey reports:
BP, the oil company taking flak for its inconsistent response to the massive oil leak in the Gulf of Mexico, bused in 400 extra cleanup workers to Grand Isle during President Obama's visit today, Jefferson Parish Council Chairman John Young said.

"It appears to have been a PR stunt by BP, not to say we don't appreciate the extra participation," Young said. "We certainly need them, but we don't need them for just one day that happens to coincide with a visit from the president." Obama made his second visit today to Louisiana's oil-stricken coast, stopping in Grand Isle and Port Fourchon.

Young said he saw the workers dressed in red shirts, blue jeans and black shrimp boots mulling across the beaches and in the mess hall during the president's appearance. They were uniformed in a way "which you don't normally see workers dressed like that," Young said.

After Obama's departure, Young said, the work crews all but vanished. "This is a total shame that a mockery has been made of this visit by the executives of BP," Councilman Chris Roberts said.
The following video clip is a report from CNN's Rick Sanchez, who interviewed an area activist. After coming back to studio, David Gergen correctly points out that the White House had just claimed that they were in charge of this, and perhaps it's time to call BP leadership in for a serious discussion about their efforts.
Its somehow fitting that this has the all the makings of something previously thought to be impossible: just like the Oil Spill disaster, the PR disaster seems to somehow be getting bigger as well.
Have a tip we should know? tips@mediaite.com
Colby Hall - Founding Editor