Newt Gingrich Reportedly Suggested to Trump that He Ban CNN from WH Briefing Room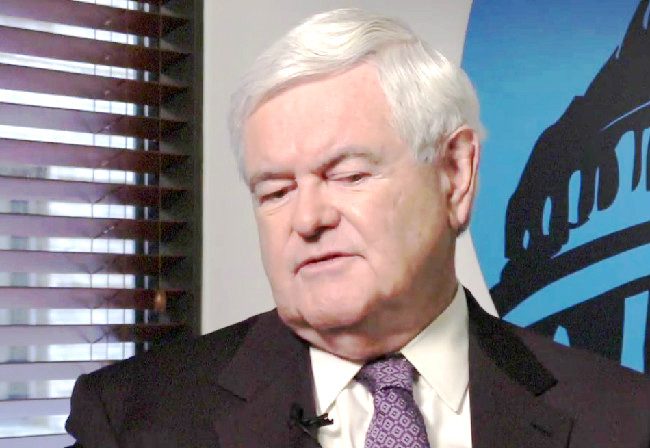 The Trump administration's relationship with the press is an ever-evolving relationship that, at times, seems to be at something of a breaking point. Recently there has been a lot of discussion about moving Press Secretary Sean Spicer to a different communications role and finding a new individual to lead the briefings…which may now only occur once a week.
But according to a recent NY Times report by Maggie Haberman and Glenn Thrush, the relationship between the White House and CNN is in such disrepair that former House Majority Leader Newt Gingrich has suggested they be "banned" from White House press briefings:
The biggest shift Mr. Trump is discussing is a dramatic change to the briefing room schedule, including limiting briefings that he has described as a "spectacle" to once a week and asking reporters to submit written questions. Some of Mr. Trump's outside advisers, including the Fox News host Sean Hannity, have urged him to curtail the freewheeling — and often embarrassing — barrage of questions. Mr. Trump has been particularly irked by CNN, and other allies such as former House Speaker Newt Gingrich have suggested banning the cable network.
There is no question that the relationship between the White House and CNN has reached an inimical state. The White House not only ignores CNN questions on a regular basis, but also has relegated their reporters positions to the back row of seats in different venues. President Trump has taken to calling CNN "Fake News" and appears to have encouraged an extreme level of animus amongst the Twitter troll set, something that CNN President Jeff Zucker calls "extremely dangerous" and "unacceptable behavior."
CNN has taken great exception to the consistent snubbery of the White House, and to their credit, have not backed down. In fact, no one has reported the hostile nature between Trump and CNN more than CNN. And it is a big story to be sure. The role of the fourth estate in American democracy is a critical one, and an attack on one media outlet should be viewed as an attack on all.
CNN's response to this snubbery, however, hasn't entirely been beyond reproach. Last night, Anderson Cooper aired a supercut of the numerous times Spicer dodged a tough question by claiming that he "hadn't spoken to the President about that." That was a relevant segment that fairly showed just lame the White House press briefings have become. The fact that this segment was aired over and over again, nearly every hour on the hour, made it feel more gratuitous and shaming than newsworthy. CNN's position is understandable, but attacking the White House so ferociously that it verges on gratuitous is not the way to transcend the relationship.
One wonders if the adversarial relationship between the White House and CNN is more deeply rooted in a personal battle between Trump and Zucker, who's relationship goes back to the NBC Apprentice days and has turned into an odd game of chicken between two guys unwilling to turn the page and work together.
The fact that the White House might be even entertaining the idea of banning CNN from White House press events should be viewed as a very grave concern to anyone who believes in a free press, regardless of one's political persuasion.
[image via screengrab]
Have a tip we should know? [email protected]