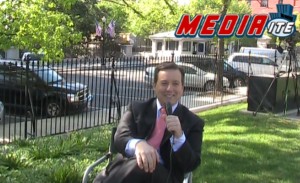 Within hours of being hired by Fox News, White House correspondent Ed Henry found himself in the crosshairs of Fox-hunting media watchdog Media Matters, who published a thin batch of research suggesting conservative bias. Scant weeks later, Henry seems to have earned his way (at least temporarily) off of the group's s#%t list, pretty much the same way he got on it: by doing his job.

Media Matters' attack on Henry is nothing new. They did the same thing (to hilariously underwhelming effect) to Major Garrett when the White House Correspondents Association was deciding who would get the front row seat vacated by Helen Thomas, and conservative watchdog Newsbusters suddenly saw bias in everything Jay Carney had ever done when he succeeded Robert Gibbs as White House Press Secretary.
What is new, though, is the rapidity with which Henry seems to have put those concerns to rest. On Friday, Media Matters ran a quick item praising Henry for pointing out that the Bush administration had contributed significantly to the current national debt:
I think Ed said it best when I interviewed him last year (he even name-checked Media Matters):
I always have struggled with the notion that there's one media bias that defines the "media".  It's mostly been charged the entire media is liberal.  In recent years a lot of liberal folks like Media Matters, when I was covering the Bush Administration, felt like it was the opposite, that the press was way too soft on President Bush, didn't ask enough questions before the war in Iraq.  Bottom line for me is, I think it's in the eye of the beholder.  Depending on who's in the White House, the other side is gonna say that the media is not being tough enough.  You're not being tough enough on Obama now, you were much tougher on Bush.  That gets back to the previous answer: If we are tough and fair to both sides, let the chips fall where they may.  People are going to accuse individuals with bias, and they are going to be biased individuals, but to say the entire media is liberal or conservative is hogwash.  You do your own job, be as fair and tough, down-the-middle as possible, and let the chips fall where they may.  Let people make their judgments.
Hogwash, I say!
Ed Henry is the same guy now that he was before Fox News hired him, and the notion that he's suddenly changed into a frothing wingnut is comical. It's been the subject of some needling in the briefing room, but Ed, for his part, has taken the whole thing in stride, and his relationship with Jay Carney hasn't suffered in the wake of their dust-up over the debt ceiling. Perhaps Media Matters' seal of grudging approval will put the whole thing to bed.
Have a tip we should know? tips@mediaite.com