Since Betty White Provided Great Ratings, Will SNL Look to Facebook Again And Book Carol Burnett?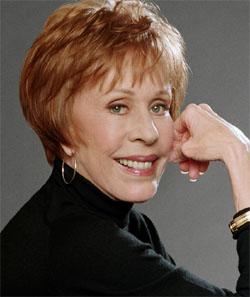 What kind of weird world do we live in where the New York Times can call a Facebook page requesting Carol Burnett as an SNL host "inevitable"? Sure, Mama's Family still runs in syndication on what seems like 12 channels a day, but is the youth of our country really going through a giant Burnett revival? Maybe not, but last week's Betty White hosted episode has seemingly given gravitas to the many Facebook SNL petitions out there. Consider Saturday's episode the comedy world equivalent of the John Edwards story giving the National Enquirer a semblance of credibility. The question is, will Lorne Michaels and company deign to listen to their online fans again?
The strange story of Betty White's triumphant return to live television ended with with a bang this weekend. When NBC decided to listen to a popular Facebook group and invite White to host the venerable sketch comedy show, it could have just been an odd footnote in the story of the show's 36th season. However, when the episode gave SNL its best ratings in a year and a half, that all changed. While the ratings can also be attributed to performances by a number of returning fan-favorite female cast members and Jay-Z, you have to imagine that someone at the network is looking to recapture some of that Facebook gold.
As the New York Times noted, the current reigning SNL Facebook petition Burnett, the 77 year old star of Broadway and sketch comedy:
"Already off and running is a Facebook page called "Carol Burnett to Host SNL (PLEASE?)!", closely modeled on the site that helped Ms. White get the "SNL" gig. Its creator writes that Ms. Burnett, the sketch comedian, Broadway star and author "would be an OUTSTANDING choice to host 'SNL,'" adding: "Icing on the cake would be a cameo appearance by TIM CONWAY!" As of Tuesday morning, more than 22,000 like-minded fans have signed on in agreement, but there's not much influence they can exert right now: the "SNL" season finale, hosted by Alec Baldwin, is on Saturday."
While the group for Burnett is currently the largest, there are hundreds of Facebook pages like it online and, now that the Betty White group got its way, there's sure to be more in the pipeline. The groups are so prevalent that one is proud to proclaim itself the first Reba McEntire page. There are even parody groups (who wouldn't want the Great Old One Cthulhu to host the show?) But, will the SNL producers listen and will there be a negative affect if they don't? The problem with giving power to a show's online fans is that they begin to feel a proprietary ownership once they think that they have some say in the creative decisions. For example, check out the fury of Chuck fans when, after the spy comedy's creators credited them with saving the show, they didn't get what they wanted regarding the main romantic storyline.
We'll have to wait till next season to see how Michaels and NBC follow up the surprising success of this week's episode. While they may not be give us Burnett, McEntire, or Liza Minelli episodes, we can hope that, at the very least, the fan-driven success of an 88 year old host will save us future episodes starring tween icons like Taylor Lautner.
Have a tip we should know? tips@mediaite.com