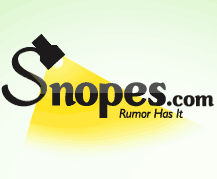 If you have older relatives, and they have email accounts, I'd guess that you're pretty familiar with Snopes.com. It's likely that, for the first few months of their sending you urgent messages about free Applebee's dinners or gang members threatening people's lives, you dutifully found rebuttals from Snopes to pass on, intending to limit occasion for embarrassment when they send such things to others.
Then you realized that embarrassment is an emotion powerless against the potency of sheer terror. That no matter how often you demonstrated the fraud behind these emails and ones exactly like them with different brands and new murder plots, still the emails kept coming. Perhaps you even flagged these relatives as junk mail. Important note to a core readership: no one in my family ever caused me to feel this way.
Snopes is the tireless and passive scold of the Internet, calmly assessing any and all madness regardless of provenance, and ensuring that the truth is told. It stands patiently in a corner of the Internet, a stationary Diogenes called into action primarily in moments of spite.
The offspring of a California couple with a penchant for urban folklore, the site originally focused on the sorts of nonsense mentioned above – rumors about people trying to give you free things or trying to rape you. As a result, that's traditionally what was most common on the 25 Hottest Urban Legends page.
And then came Barack Obama.
As I write this, nearly a quarter of the hottest urban legends deal, in one form or another, with rumors disparaging the President. There's the claim that a judge ordered Obama to prove his citizenship. The one about the size of Michelle's staff. That the Fort Hood shooter was on Obama's Homeland Security Task Force. The President didn't salute at the tomb of the Unknown Soldier. A list of unpatriotic actions regular American Joes noticed. That Obama introduced a Muslim stamp.
That last one is a two-fer for hot topics. Two other rumors on the list bear the fingerprints of the Christian Right: one relating anti-Muslim sentiment in Australia, another claiming that atheists are trying to ban religious television. And, of course, there's an extensive, vitriolic letter disparaging Nancy Pelosi – which, unfortunately, is legit.
That nearly all of these rumors are debunked by the site is not the point. The point is that these are the "hottest" topics – the things that site visitors care the most about. What also matters is how certain misinformation is deliberately skewed to stain Obama's reputation. The stamp, for example, was a function of the Postal Service, but Obama is included to further link him to the Muslim faith. Likewise the Fort Hood shooter – he attended Homeland Security seminars, but under Bush.
A natural question, of course, is how these grass roots smears on the President stack up against his Polar opposite (capital intended). In a search of the site, which turns up only mentions of the name, "Obama" appears 196 times, "Palin," 24. The name "Bush", by contrast, which refers to either of the preceding Presidents, appears 338 times. (At his current pace, Obama will have nearly 500 rumors on the site by the end of his first term, if you figure that his 196 appeared in 2008 and 2009.)
The next argument from one seeking to diminish the impact of these numbers, then, might be to question why the site is so eager to defend the President – to ask, in essence, if it is biased. Wikipedia has the response:
Snopes receives more complaints that it is too liberal than that it is too conservative, but insists that it applies the same debunking standards to all political stories. FactCheck reviewed a sample of Snopes' responses to political rumors regarding George W. Bush, Sarah Palin and Barack Obama, and found them to be free from bias in all cases. FactCheck noted that Barbara Mikkelson was a Canadian citizen (and thus unable to vote in American elections) and David Mikkelson was an independent who was once a registered Republican. "You'd be hard-pressed to find two more apolitical people," David Mikkelson told them.
(The FactCheck piece is here.)
What is the takeaway? It's hard to compare this Top 25 list with years gone by; among other reasons, Archive.org is blocked from indexing the site. It's clear, though, that there is an enormous amount of interest in misinformation about the President. This comes as little surprise to observers of our national political discourse. But one can't help but feel disheartened.
The silver lining is this: at least people are asking if these rumors are legit. At least people are wandering into the unloved, neglected portion of the web where Snopes lingers to see if that hard-to-believe story they've heard about the Commander-in-Chief is accurate. For what it's worth, at least the stories are debunked.
It likely does little good. Even in the world of those who blindly loathe Barack Obama, terror outweighs the embarrassment of being wrong. There's little recourse for any of us besides marking the purveyors of these dishonest, inaccurate claims as junk, and hoping they don't pop back into sight.
Where's the "Junk Mail" button on my TV remote, again?
Have a tip we should know? tips@mediaite.com