So Much For Smashing That Stained-Glass Ceiling: Pope Francis Says Women Will Never Be Priests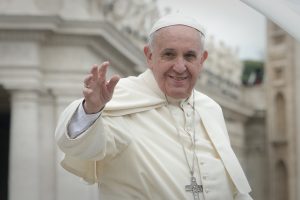 Ever since the infancy of the Catholic Church, there has been a clear separation between the roles of men and women, as well as the levels of ordination that each can receive. Men can serve as priests, friars, monks, brothers, and deacons, the largest positions of categorical status and achievement within the Church; women, however, have long been relegated to roles like Eucharistic Minister, nun, or religious sister… but being ordained as a priest is strictly forbidden.
As the western world has adapted increasingly liberal points of view regarding social status and workplace equity, it's a question that recent Popes has faced with frequency, and again this week the Pontiff restated the long-held and arguably antiquated viewpoint: no women priests.
Pope Francis faced the topic in the form of a question by a female reporter this week, who pressed His Holiness on whether or not women would be able to serve as priests or bishops. Pope Francis responded simply, "St. Pope John Paul II had the last clear word on this and it stands."
Pope John Paul II established before his death that the topic was not up for debate. The late Pope once wrote, "I declare that the Church has no authority whatsoever to confer priestly ordination on women and that this judgment is to be definitively held by all the Church's faithful."
The reporter who asked Pope Francis the question on Tuesday on board the papal plane did not seem deterred. "Forever, forever? Never, never?" she asked.
The Pontiff responded, "If we read carefully the declaration by St. John Paul II, it is going in that direction."
[h/t USA Today]
—
[image by Jeffrey Bruno/Aleteia]
Have a tip we should know? tips@mediaite.com