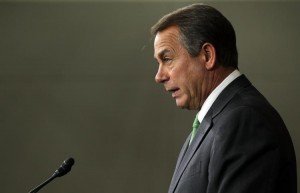 House Speaker John Boehner called in to Laura Ingraham's radio show to discuss the national deficit and recent budget deal.
When asked if there were any "gimmicks" in the budget deal, Boehner defended his efforts and tried to look at the deal in terms of its long-term impact (while pointing out, basically, that it "coulda been worse"):
We have $315 billion in spending that we're going to cut over the next 10 years. And let's not forget where we started this year. The president said no cuts from the current spending line. None! And the fact is we're going to spend $78.5 billion less this year than what the president wanted to spend. And if Republicans had not won the majority in the House last year, I guarantee you we'd be spending $78.5 billion dollars more this year than we spent last.
He added that he "fought for every dime of spending cuts I could get out of Harry Reid and President Obama." Speaking of the President… Boehner has rather strong words concerning Obama's speech:
I was very disappointed in the president's speech yesterday. He clearly is not ready to grapple with the long term debt that's staring us down and going to imprison the future for our kids and our grandkids. And if he won't lead, we will.
It's a sentiment he reiterated later on in the interview, after Ingraham asked whether raising the debt ceiling was now off the table:
Boehner: We have obligations as a government and if people want to see a true economic meltdown then they can go ahead and not raise the debt ceiling. But we've made it clear to the president; we are not going to raise the debt ceiling without real spending cuts and real reforms to these programs that are driving us right off the economic cliff.

Ingraham: Well you didn't hear those yesterday in the speech, so doesn't that mean there has to be a 'no' vote on the debt ceiling?

Boehner: If the president won't lead, we will.
Listen to the interview, via The Laura Ingraham Show:
Have a tip we should know? tips@mediaite.com