Special Holiday Gift Ideas For Your Least Favorite Children: O'Reilly, Beck, And Limbaugh Comic Books!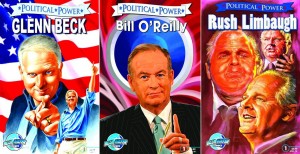 The holiday season is right around the corner and chances are there are some children you need to get presents for. Now, you could get them some kind of toy or game. However, if you really want your gift to stick out from the rest, may we recommend these comic books telling the biographical stories of Bill O'Reilly, Glenn Beck, or Rush Limbaugh! The comics feature everything children absolutely love: learning, politics, and news-oriented talk shows! No one's gonna want to waste time with a Wii when these babies are around!
The comics are the products of Blue Water Productions and are part of their Political Power line. That line typically features biographies of politicians and presidents. But kids already know all about those guys from school. Now it's time to hear all about the travails of those angry old guys mommy and daddy turn off the cartoons for. What fun!
Here's the company's post about the O'Reilly issue:
"'It's a biography', says writer Jerome Maida, 'To be more accurate, it's part of a biography. Because there's no way I could encompass the entirety of someone's life that has the breadth and depth that I learned Bill O'Reilly's does.'

…

Maida wants to emphasize there are plenty of fun moments too. 'Some scenes are pretty humorous. Bill was an admitted class clown, a hooligan and some of those scenes are fun while they still help you to understand his beliefs and values today, besides the apparent contrast.'

Maida says the book will focus mainly on O'Reilly from childhood to college, when he decided he definitely wanted a career as a journalist."
Man, your child is going to just eat up the stories of wacky, young Bill right before they settle down for that night's lengthy discussion about Obama's body language and how that shows a subservient approach towards China. Well, he will if your child's Jonathan Krohn.
Really though, we just can't wait for the Superman/Batman style team-up book featuring the Bold & Fresh Tour. Together, Beck and O'Reilly can take on all kinds of adversaries, like Super Maureen Dowd or even…GASP…O'Reilly's arch-nemesis: Zippy the Pinhead.
(via Politico)
Have a tip we should know? tips@mediaite.com