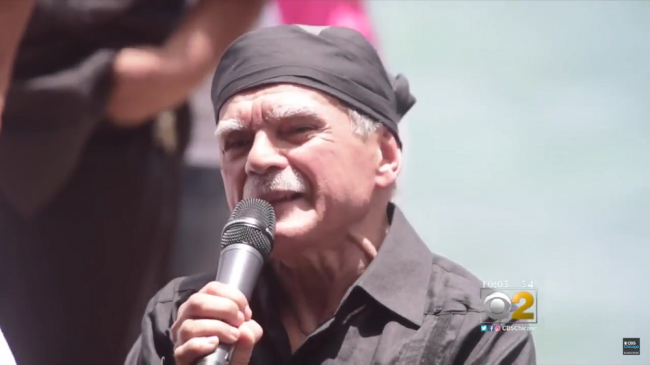 Top sponsors of the annual National Puerto Rican Day parade in New York City have pulled out in recent days due to the parade board's decision to honor a convicted criminal who was part of a group that conducted multiple bombings in New York City in the 1970s.
Former President Barack Obama commuted the sentence of Oscar López Rivera, a member of the Puerto Rican nationalist group FALN, just before he left office in January 2017. López Rivera was released from detention on May 17, 2017, after serving 35 years of a 55-year prison sentence for "'seditious conspiracy'…attempted robbery, explosives and vehicle-theft charges," as detailed in a January 2017 article published by Politico.
The FALN, as part of its Marxist-Leninist campaign for Puerto Rican independence, killed four and wounded 63 during a January 1975 bombing attack at Fraunces Tavern in Manhattan, the historic site of George Washington's farewell to his officers in 1783. A month earlier, one of the group's bombs maimed a NYPD officer.
Later that year, FALN conducted a more widespread terror campaign by detonating multiple explosive devices in three different cities. Nearly two years later, the far-left group "set off a series of bombs in Manhattan, forcing 100,000 workers to evacuate their offices; one person was killed, and six were injured," as spotlighted by the Politico article.
According to a Thursday report from NBC News, food company Goya was the first to pull out of sponsoring the parade after the organizers made their May 4, 2017 announcement regarding their decision to honor López Rivera. The organizers' press release lauded the convicted criminal as "Prócer de la Libertad (National Freedom Hero)."
More companies and organizations followed suit in recent days, "including the New York Yankees, Coca-Cola, JetBlue, and AT& T," according to NBC's write-up. The New York Daily News, which is known for its left-of-center editorial stances on many issues, actually pulled out as well on Wednesday, and published an editorial explaining its decision.
"López Rivera was never charged in direct connection with a bombing," the Daily News wrote. "But it is beyond dispute that he proudly oversaw the unrepentantly violent movement. It is also beyond dispute that he has never expressed remorse."
The controversy has also divided the city government, with NYC police commissioner James O'Neill condemning the honor for López Rivera, but Mayor Bill DeBlasio supporting the move.
[image via screengrab]
Have a tip we should know? tips@mediaite.com