Staunch Atheist Christopher Hitchens Will Not Observe "Everybody Pray for Hitchens Day"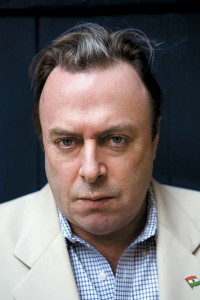 Early this summer, prolific writer and provocateur Christopher Hitchens revealed that he has terminal esophageal cancer. Since then, he's been remarkably open about his condition—he even sat down with Anderson Cooper to discuss the disease in August. During that interview, the atheistic Hitchens also gave his opinion about the numerous people who have said that they would pray for him. As Frances Martel wrote on this site,

On the topic of prayer, Hitchens noted that the prayers about his cancer—both the people praying for his health and those who have "lavish websites… praying for me to suffer and die"—are meaningless to him, even "Everyone Pray for Hitchens Day," which he says has been designated to be the 20th of September. "I don't think souls or bodies can be changed by incantation– or anything else, by the way."
One month later, the God is Not Great author hasn't changed his tune: "I shall not be participating" in "Pray for Hitchens Day," he told the Associated Press. The article continues, saying:
The way the English-born Hitchens sees it, the people praying for him break down into three basic groups: those who seem genuinely glad he's suffering and dying from cancer; those who want him to become a believer in their religious faith; and those who are asking God to heal him.

Hitchens has no use for that first group. "'To hell with you' is the response to the ones who pray for me to go to hell," Hitchens told AP.

He's ruling out the idea of a deathbed change of heart: "'Thanks but no thanks' is the reply to those who want me to convert and recognize a divinity or deity."

It's that third group — people who are asking God for Hitchens' healing — that causes Hitchens to choose his words even more carefully than normal. Are those prayers OK? Are they helpful?

"I say it's fine by me, I think of it as a nice gesture. And it may well make them feel better, which is a good thing in itself," says Hitchens.
Those healing prayers have no effect on Hitchens himself, however. He understands that keeping a positive attitude is important for any cancer patient—"But incantations, I don't think, have any effect on the material world."
By taking this stance, Hitchens is giving both his supporters and his detractors what they want. His advocates will appreciate that he isn't abandoning his principles, even in the face of death, while his critics will cite today's comments as yet another example of Hitchens's arrogance and ungratefulness. Either way, I think I speak for many people when I say that regardless of my personal opinion of Hitchens, I hope he recovers—and that while he may not be in my prayers today, he will certainly be in my thoughts.
Have a tip we should know? tips@mediaite.com