Stephen Baldwin Wants To Be "The George Soros For Jesus" When He's A Billionaire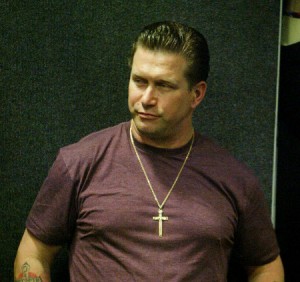 Stephen Baldwin is no Alec Baldwin. But he's cool with that, because he's got even bigger aspirations: to become "the George Soros for Jesus." How will he achieve this? As he told nymag.com's Daily Intel, "I'm 44 years old, my plan is to be a billionaire by 50, which these days, that's very doable."
And even though most people don't like hearing a celebrity at a movie screening say that acquiring a billion dollars is "very doable," especially during a recession, he did outline his six-year path to riches:
Baldwin's "doable" route to becoming a billionaire leads through new business ideas and partnerships with existing companies. For example, he is spokesperson for and has an ownership stake in Opflex, an oil-cleanup company working in the Gulf of Mexico, and he's also working on an "energy technology involving the ability to control the electrical currents within any type of apparatus that has a motor."
He also waxed political, telling Daily Intel that he's "got to get on the phone with Sarah Palin as soon as possible. From about 50 or 60 yards, she had a clear shot at a moose there, and she missed the first three times!" But he can't be that mad at her: "You know, Sarah called me her favorite Baldwin brother on SNL." See, she's just "Sarah" now.
In the end, he acknowledged that his reputation might hinder his lofty ambitions. "I think I'm more of a partier than Tea Partier, you know, if my reputation is at all true." You can read more from the former drug addict and future billionaire over at nymag.com.
Have a tip we should know? tips@mediaite.com