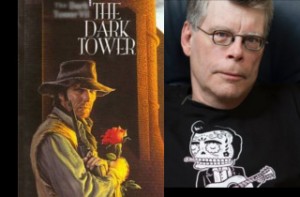 Permit me to geek out a bit, reader. We've seen hobbits and boy wizards make the leap from fantasy literature to cinematic epic — now it's the gunslingers' turn. Stephen King's gargantuan series The Dark Tower is finally coming to theaters.
According to a report in Entertainment Weekly published Tuesday, The Dark Tower will be adapted courtesy of Sony Pictures and director/co-writer Nikolaj Arcel, who wrote the Swedish version of The Girl With the Dragon Tattoo. The science fiction/fantasy/western adventure will feature Idris Elba in the lead role as Roland Deschain, the last Gunslinger, whose pursuit of the titular Dark Tower provides the baseline for King's saga. Matthew McConaughey will co-star as Roland's shapeshifting nemesis, the Man in Black. For now, there's only the one film on the studio's docket (scheduled to be released in January 2017), and it begins shooting in seven weeks.
It's official: The man in black fled across the desert and the gunslinger followed. #DarkTowerMovie @McConaughey @IdrisElba

— Stephen King (@StephenKing) March 1, 2016
For the uninitiated, The Dark Tower is a sprawling yarn about a group of travelers, drawn together by fate-like force of ka from different times and worlds, led by the mysterious sixshooter-brandishing Roland, the last vestige of a elite class of knights called Gunslingers. Their quest takes them through a battered and broken world that has "moved on," and comes speckled with references to spaghetti westerns, Marvel Comics, Tolkein-esque fantasy, Lovecraftian horror, modernist poetry, not to mention several decades of American history.
.@McConaughey you have one new follower. #DarkTowerMovie https://t.co/5fSKF02C7I

— Idris Elba (@idriselba) March 1, 2016
.@idriselba come and get me, I look forward to it. #DarkTowerMovie https://t.co/4gxqm2GPo3

— Matthew McConaughey (@McConaughey) March 1, 2016
King began writing the first book in the series, The Gunslinger, while in college; it was published in 1982. The final volumes were released some three decades later and King published an midquel in 2012. In addition to the core eight books, as the story of the Tower unfolded it came to form the backbone of King's entire mythology, infusing subtle premonitions and supporting characters into virtually every book in his corpus.
In short, it's a massive amount of material to synthesize for a series of feature-length movies — let alone a single film.  Fans may lament that there's only one movie slated for production as of this writing. But considering how long this journey to the big screen has taken, I yield. I yield smiling.
[h/t EW]
Have a tip we should know? tips@mediaite.com