Steve Bannon Dismisses 'Ethno-Nationalism' as a 'Fringe Element' in New Interview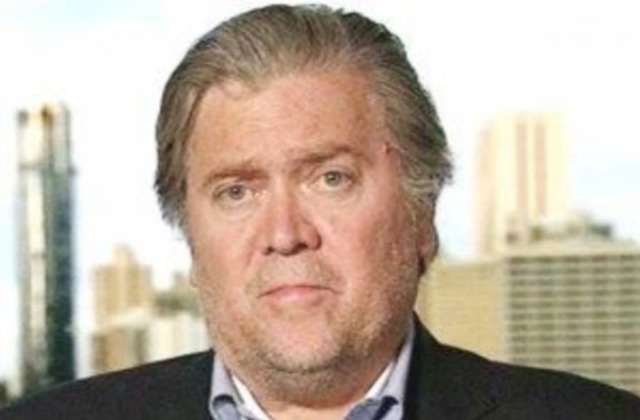 Steve Bannon has given another rare interview, this time to the American Prospect.
In a phone call this week with Robert Kuttner, Bannon sounded off on a range of topics like China and North Korea. At one point, he even got candid about how he's going up against people like Gary Cohn:
But what about his internal adversaries, at the departments of State and Defense, who think the United States can enlist Beijing's aid on the North Korean standoff, and at Treasury and the National Economic Council who don't want to mess with the trading system?

"Oh, they're wetting themselves," he said, explaining that the Section 301 complaint, which was put on hold when the war of threats with North Korea broke out, was shelved only temporarily, and will be revived in three weeks. As for other cabinet departments, Bannon has big plans to marginalize their influence.

"I'm changing out people at East Asian Defense; I'm getting hawks in. I'm getting Susan Thornton [acting head of East Asian and Pacific Affairs] out at State."

But can Bannon really win that fight internally?

"That's a fight I fight every day here," he said. "We're still fighting. There's Treasury and [National Economic Council chair] Gary Cohn and Goldman Sachs lobbying."
On North Korea, Bannon also said, "There's no military solution [to North Korea's nuclear threats], forget it. Until somebody solves the part of the equation that shows me that ten million people in Seoul don't die in the first 30 minutes from conventional weapons, I don't know what you're talking about, there's no military solution here, they got us."
However, with Charlottesville still a bit part of the national discussion, Bannon has been in the spotlight recently for other reasons. Bannon's association with the alt-right has led to renewed calls for him to be fired, especially after the events of Charlottesville. Even one Republican congressman this week was bringing up his concerns about Bannon's influence in the White House.
But when Kuttner brought up the "ugly white nationalism" in Charlottesville and President Trump's reaction to it, Bannon was largely dismissive:
He dismissed the far right as irrelevant and sidestepped his own role in cultivating it: "Ethno-nationalism—it's losers. It's a fringe element. I think the media plays it up too much, and we gotta help crush it, you know, uh, help crush it more."

"These guys are a collection of clowns," he added.
An earlier report said that Bannon saw Trump's "both sides" press conference as a "defiant moment" of his presidency.
Bannon himself added that it's Democrats who are playing up race and identity politics:
"The Democrats," he said, "the longer they talk about identity politics, I got 'em. I want them to talk about racism every day. If the left is focused on race and identity, and we go with economic nationalism, we can crush the Democrats."
You can read the full interview here.
[image via screengrab]
— —
Follow Josh Feldman on Twitter: @feldmaniac
Have a tip we should know? tips@mediaite.com
Josh Feldman - Senior Editor