'Stiff' Deal: Philly Funeral Director Has License Revoked After Bodies Found in Garage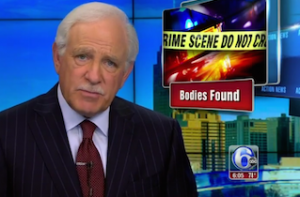 The Pennsylvania State Board of Funeral Directors is probably not thrilled that they had to make an announcement today regarding a former funeral director who was hoarding bodies in her garage and was arrested for it in August. They probably didn't anticipate ever having to deal with something like that. You take a job with a state board of funeral directors and you think it's just going to be cushy, no drama, you know?
The announcement said that Janet Powell Dailey had had her license revoked because she "failed to fulfill one of the most fundamental responsibilities that a licensee has, to treat the deceased with dignity and respect," according to Philadelphia's ABC 6 Action News.
When neighbors investigated a foul smell coming from the garage adjacent to Powell Funeral Home, they discovered three bodies decomposing in the August heat. One was in a casket. The other two were in cardboard boxes.
Among the three bodies was that of Albert Andrews, who died of dementia at 84 a month prior to the discovery. His family indicated that they had believed his body to have been cremated a day after his death, only learning the truth after seeing reports on the news.
His daughter, Theresa Peterson, called Powell Dailey and was told that her father's body had been cremated and the reports were fabricated. "She said, 'I want you to know I did nothing wrong.' She said it's the media coming after poor, black businesses," Peterson recalled.
Now that Andrews's remains in a Baltimore cemetery and Powell Dailey is in police custody, it is obvious that the reports were anything but false.
[image via screengrab]
For more from Lindsey, follow her on Twitter.
Have a tip we should know? tips@mediaite.com