Strangest Bedfellows: Media Matters Head Agrees With RNC, Calls For NBC & CNN Films To Be Canceled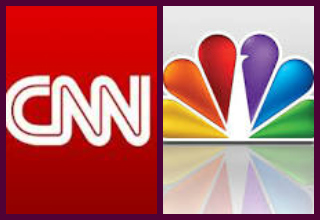 In a rare show of bipartisan understanding, Media Matters head David Brock today came out to support Republican National Committee Chairman Reince Priebus' demand that CNN and NBC drop the Hillary Clinton projects they're working on. Brock agrees with Priebus that both networks will be subject to charges of favoritism by releasing, respectively, a documentary and a miniseries on the former First Lady/U.S. Senator/Secretary of State and potentially future president.


Brock sent letters to both networks urging them to reconsider, or at the very least explain themselves. He asks NBC Entertainment Chairman Robert Greenblatt and CNN Worldwide President Jeff Zucker if they're willing to "tarnish" the reputations of their news divisions with the Clinton projects. Brock also expresses concerns about the integrity of NBC News & CNN's reporting on the presidential campaign after working on films that would basically promote one of the candidates over all the others.
But where Brock's criticism differs from the RNC's is his concern that the projects might go too far in appeasing the anti-Hillary crowd. Here's what he writes in his letter to CNN:
"Fox News has already done segments suggesting the documentary will be 'airbrushed' or 'revisionist history' if it doesn't include phony scandals like 'Travelgate,' 'Filegate,' and 'Whitewater.' Your network issued a statement asking the RNC to 'reserve judgment' until they know more about the documentary. This suggests that they might, in fact, be pleased with it which is reason enough to suspend the project."
In case you're keeping track, that's the head of the Republican party and the head of a liberal media watchdog agreeing on something. And all it took was Diane Lane playing Hillary Clinton.
You can read the letters here.
h/t POLITICO
—–
Follow Josh Feldman on Twitter: @feldmaniac
Have a tip we should know? tips@mediaite.com
Josh Feldman - Senior Editor