Talent Rewarded, Disloyalty Punished? Megyn Kelly's Rise May Be Greta-Induced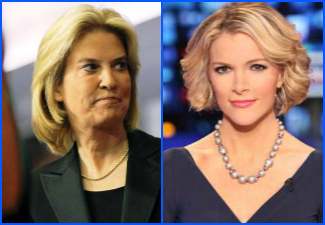 Megyn Kelly's move to primetime was never a matter of if, but when. And with respect to Rachel Maddow, no woman in cable news can command a screen, a conversation, a show quite like the attorney-turned-anchor.
For years, it always seemed odd that Fox News would hide one of its top assets in a timeslot with as little visibility as Kelly's at 1:00-3:00 PM on weekdays. New Year's Eve in Times Square? Have her co-host. Weekly Kelly's Court spots on O'Reilly? Always a quality verbal joust. Co-host 2012 election night coverage—which produced some Rovian controversy and the highest ratings in the network's history? Piece of cake.
To perform so many roles as effectively and effortlessly as Kelly is the very definition of versatility.
Of talent.
Is this a fawning piece thus far? Yup. But ask any cable news exec—if given the opportunity to start a cable news network from scratch—which anchor/host they would use a #1 fantasy pick to draft. Outside of Bill O'Reilly (who at 63 could be in the twilight of his career, although smart money has him working well into his 70s), the second pick (or arguably first) would likely be the 42-year-old Kelly.
Sure, she has her faults (getting personal with Fox's Kirsten Powers by telling her she didn't know what she was talking about and had no ability to debate, for example, was both condescending and arrogant. Kelly knew it afterwards and apologized), but a format that begs for confrontation will invariably lead to these kind of mistakes or regrets no matter who's anchoring…it's just all part of the perils of the business.
And in the "now that makes sense" category, the dots appear to be connected around Andrew Kirell's scoop on Greta Van Susteren reportedly speaking to CNN about returning to the network that essentially launched her career: If it's true, Greta apparently heard the loud Kelly primetime rumors, or perhaps—at age 59 and not exactly decimating the competition the way her Fox cohorts do in the ratings—she saw the writing on the wall.
But what makes the Greta-to-CNN story odd is that she recently signed a long-term contract stipulating she host a show in primetime. That said, where exactly is there room on the schedule for a Megyn show in the evening? With the aforementioned O'Reilly having the top-rated show in cable news at 8:00 PM and Sean Hannity hosting the third-highest rated show, they ain't going anywhere.
How about earlier? Well, 6:00 PM belongs to Bret Baier and 7:00 PM Shep Smith, and they also have locked down long-term contracts while hosting highly-rated shows (overall, Fox holds the top 13 spots). To that end, the only three scenarios appear to be a Kelly/Greta co-hosted show, or two 30-minute programs by each.
Or…Greta's contract may state she must host a show in primetime, but does it stipulate specifically weekday prime? Could she end up getting Schultzed and have happen to her what MSNBC did to poor Ed Schultz by sending her off to weekends?
Or…Greta could be shown the door despite the new contract. Because as Zev Chafets' new biography on Roger Ailes points out over and over throughout the book, if you stay loyal to Ailes, he'll have your back no matter what (just ask Bob Beckel). But if you stray (particularly when the suitor is a longtime competitor), Ailes will have no issue with showing you the door (just ask one-time FNC employee Jim Cramer what happened after flirting with a competitor while under contract).
And maybe that's what happened here if the Greta/CNN talks are to be believed: She is seen as disloyal in Ailes' eyes; Ailes responds by announcing Kelly is moving to primetime a bit sooner than originally planned. And maybe that's why Fox made such an announcement without having, you know…a new primetime schedule, a Kelly show title, a show format…all ready to firmly back up such a big announcement.
Regardless, Kelly's rise also continues a trend of transforming guests/pundits/contributors into full-fledged hosts, once an unthinkable thought. Remember, in the old days of the 20th Century, the only road to anchoring or hosting on a national stage was to work in a small city (think Reno), followed by a slightly-bigger-but-still-small-city (think Omaha), followed by a "medium" city (think Columbus), followed by a jump to an NFL city (insert team here). And then perhaps, perhaps, you might be lucky enough to get an audition against eight other people after the same job.
In Kelly's case, she once contributed short legal segments to Fox but was quickly elevated to the anchor chair once her ability to do bigger things became all too apparent to Ailes. And despite having little experience entering the TV business almost a decade ago, Kelly's rise proves once again that true talent is inherent, not something that can be taught.
Great anchors don't become great personalities. But great personalities can become great anchors.
Kelly will start her primetime gig upon returning from maternity leave.
The only questions that now remain are:
What exactly is the gig?
Will it be a solo act at, say, 10:00 PM?
Or will she be seated next to another lawyer who also made it big on TV?
—-
Follow Joe Concha on Twitter @ConchSports
Have a tip we should know? tips@mediaite.com