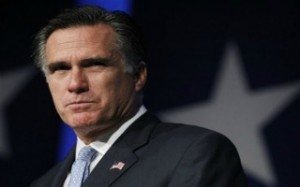 Mitt Romney's recent non-answer regarding President Obama's new immigration policy didn't quite go unnoticed. His remark on today's Supreme Court decision about Arizona's immigration law didn't clear much up either. In his statement, Romney emphasized the need for leadership on the issue, but strayed away from directly saying whether he disagrees with the decision.
RELATED: Romney Refuses To Say Whether He'd Repeal Obama's New Immigration Policy
The Supreme Court struck down most of the law, keeping intact its most controversial aspect — the provision that allows police to check citizenship status. Romney issued the following statement:
"Today's decision underscores the need for a President who will lead on this critical issue and work in a bipartisan fashion to pursue a national immigration strategy. President Obama has failed to provide any leadership on immigration. This represents yet another broken promise by this President. I believe that each state has the duty–and the right–to secure our borders and preserve the rule of law, particularly when the federal government has failed to meet its responsibilities. As Candidate Obama, he promised to present an immigration plan during his first year in office. But 4 years later, we are still waiting."
The response is more focused on states' rights and criticism of the president's approach, rather than Romney's own opinion of the decision. Over at POLITICO, in a transcript of a lengthy exchange with Romney traveling spokesman Rick Gorka, the response didn't much differ. Repeatedly pressed, Gorka said, "The governor supports the right of states, that's all we're going to say on this issue."
Asked whether Romney has a position on the law, Gorka replied, "The governor has his own immigration policy that he laid out in Orlando and in the primary, which he would implement as president which would address this issue. Whereas Obama has had four years in the office and has yet to address it in a meaningful way." Again, repeatedly questioned, Gorka maintained Romney's position about states' rights.
(H/T TPM)
Have a tip we should know? tips@mediaite.com