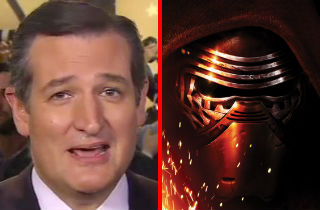 Republican presidential candidate Ted Cruz seems to think the force is on his side, because he tweeted out a fan edit featuring footage of his campaign combined with audio from the final Star Wars: The Force Awakens trailer. The countdown until Disney's legal team files a cease and desist with YouTube begins… now.
Ahead of Tuesday night's CNN GOP Debate in Las Vegas, the Cruz campaign's official Twitter account found and tweeted out the video uploaded by YouTube user 2conservatives.
"The Force… it's calling to you," read the tweet. "Just let it in and tune in to tonight's #CNNDebate at 8:30 pm ET."
Aside from the fact that Cruz should probably fire whoever writes his social media copy, there's also the matter of just how legal (or not) the fan edit is. Sure, it's only the audio track from the final trailer, but this is Disney we're talking about. The mouse has the money to flex its copyright-enforcing muscles, especially when conservative politics in a place known as "Sin City" are involved.
Even so, the video's editor(s) deserves at least a modicum of respect for the particular video and audio pairings. Especially when Fey (Daisy Ridley) asks Han Solo (Harrison Ford) about his "stories." Who else would pop up on screen in a Cruz video at such a moment than former president Ronald Reagan?
After all, he helped create the Strategic Defense Initiative, popularly called "Star Wars" by the American media at the time.
[Image via screengrab]
— —
>> Follow Andrew Husband (@AndrewHusband) on Twitter
Have a tip we should know? tips@mediaite.com