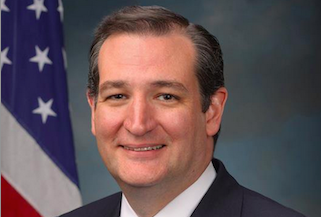 Last Monday, Sen. Ted Cruz (R-TX) posted a "quick poll" on his Facebook page asking his followers if they are "better off" now than before the Affordable Care Act passed four years earlier. A week later with the Obamacare sign-up deadline upon us, the unscientific results and in and they likely aren't what Cruz was expecting.
Cruz neglected to use Facebook's official poll feature, instead asking people to comment with a simple "YES" or "NO." After seven days, the post has accumulated more than 47,000 comments with a startling number of people answering in the affirmative. The way Facebook works, the comments with the most "Likes" rise to the top of the post. As you can see by viewing the comments on the post below, every single one of the most-liked comments answers a resounding "Yes" to Cruz's question.
"Yes! Everyone in my family has a pre-existing condition that range from minor to serious," Felicia Willems wrote. "We were uninsurable on the individual market. Now we've got great coverage through healthcare.gov. We did NOT get a subsidy but it still fits our budget!"
"YES, best law ever!" Lili Ann Fuller said.
"YES, YES & YES!! Hands Off My Obamacare!!" Shelley Laysi Peterson added enthusiastically.
And it goes on and on from there. One does not have to "Like" Cruz to comment on his post, but the results of his "quick poll" indicate that many of the 651,000 people who do probably follow what he has to say because they disagree with his views and not because they are supporters. AllVoices.com's Reno Berkeley delved into the post's responses even further on Sunday and noted that the "vast majority of the people responding to the senator's question liked the law."
Cruz may be convinced that Americans hate Obamacare, but at least on Facebook, he just proved that's not necessarily the case.
In an attempt to get a slightly more scientific answer from our readers, let us know what you think by answering Cruz's question below:
[photo via Facebook]
— —
>> Follow Matt Wilstein (@TheMattWilstein) on Twitter
Have a tip we should know? tips@mediaite.com