That Was Fast: Trump Says He Will Meet With Ryan 'Before We Go Our Separate Ways'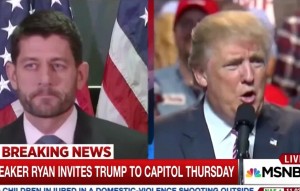 The back-back and forth-and-back between presumptive Republican presidential nominee Donald Trump and Speaker of the House Paul Ryan took yet another turn Friday afternoon. In what appeared to be something of a peace deal brokered by RNC chair Reince Priebus, Ryan announced Friday that he had invited Trump to Washington next Thursday to work out a way for Trump to gain Ryan's support, but in another statement Friday afternoon, Trump seemed to see things differently:
Priebus says that within minutes of Ryan telling CNN's Jake Tapper on Thursday that he is "not there right now" with Trump, the presumptive nominee called the party leader and wanted to know what he needed to do. Priebus has agreed to arrange a meeting between Trump and Ryan for next week and said Friday morning that he expects the speaker to eventually support Trump but wants to first work through some issues.

"It wasn't like furious or anything; it was just like, 'What do I need to do?'" Priebus said at a Politico Playbook Breakfast on Friday morning. "And so I said, 'Listen — my view is just relax and be gracious, and I will talk to Paul and we will try to work on this.'"

That's not what Trump remembers happening.

"I told Reince that I thought it was totally inappropriate what Paul Ryan said and thought it was good for me politically," Trump said in a statement early Friday afternoon ahead of a political rally in Nebraska. "But Reince feels, and I'm okay with that, that we should meet before we go our separate ways. So I guess the meeting will take place and who knows what will happen."
If there's any good news to come from all of this, it's that Trump can at least try to replace his Rolling Stones rally music with some classic Journey. Anyone counting on Trump to cave in may need to stop believin' that will ever happen.
Have a tip we should know? tips@mediaite.com