The All-New First Take Keeps it Fresh, Opens with Fiery Debate of 21-Day Old Topic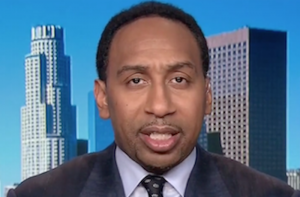 With noted carnival barker Skip Bayless having picked up and taken his talents over to Fox Sports, ESPN 2 unveiled its brand-new First Take on Monday, with Stephen A. Smith now being joined in his morning scream-a-thons by Max Kellerman — most recently part of ESPN's SportsNation.
Eager to prove the show has its finger on the pulse, they kicked off with a 15 minute debate on Kevin Durant's signing with the Golden State Warriors — which happened 21 days ago.
"On your first show, the very first segment of the first show, you're sitting here saying you have no problem whatsoever with Kevin Durant going to the Golden State Warriors?!" Smith said,
"No problem," Kellerman said.
Watch Smith lose his mind in the video below.
"OH MY GOD! I CAN'T BELIEVE THIS?!" Smith said, his voice going up several octaves and decibels.
"I don't know this Max Kellerman! I don't know you right now!" Smith later said, facetiously, to his longtime pal.
Granted, Smith hadn't yet had a chance to weigh in on the Durant signing on First Take. Durant's teaming up with Stephen Curry and co. to form a super team in the bay area is, undoubtedly, a seismic move in the NBA. Still, it happened three weeks ago. It is old news. It has been picked apart from every angle.
Remarkably (but indisputably), First Take has become an important show in the sports talk genre. Smith has projected confidence that First Take can retain its standing in the post-Bayless era. Timely debates like Monday's show-opener — that is to say, debates which are not at all ridiculously dated and beaten-to-death — figure to help.
[image via screengrab]
—
Follow Joe DePaolo (@joe_depaolo) on Twitter
Have a tip we should know? tips@mediaite.com
Joe DePaolo - Senior Editor