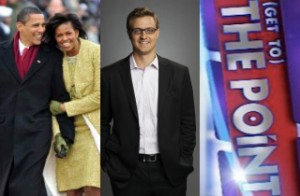 Rarely has one week gone so poorly for cable news.
We're talking all aspects of the game: Program busts on CNN and MSNBC, blustering for the sake of blustering, and attacks on those who completely didn't deserve it—like the President and First Lady—that made us remember cable news isn't exactly journalism royalty on display.
Let's start with the aforementioned Commander-in-Chief, who made the following comment about the California District Attorney, Kamala Harris.
"…She is brilliant, and she is dedicated, and she is tough, and she is exactly what you'd want in anybody who is administering the law and making sure that everybody is getting a fair shake. She also happens to be by far the best-looking attorney general in the country…"
Immediately, the PC Police were out in full force demanding the President apologize for the "sexist" (their words) remark. FOX News and CNN booked various guests from both sides of the argument to debate the topic, while MSNBC—who aggressively perpetuated the myth around the GOP's War on Women during the 2012 campaign—largely (and predictably) defended the President. Wonder what the reaction would have been if a President Romney said the same thing (rhetorical question)…
In the end (as it so often has lately) political correctness won the day, and the President was forced to apologize to Harris.
And he never should have.
Similar to the whole patently ridiculous Brent Musburger/Katherine Webb situation (where the ESPN broadcaster innocently complimented an Alabama quarterback's girlfriend in the stands during the BCS Championship Game), the President did absolutely nothing wrong here. It's not like he only pointed out her looks when broaching her credentials (dedicated, tough, fair) during a recent California fundraiser, he simply pointed out the obvious: Ms. Harris IS aesthetically pleasing.
What…a man can't compliment a woman in public anymore? Even after a few groans went up from the crowd after Mr. Obama's comment, his reaction was a preview of other un-PC reactions to come: "It's true," he insisted. "Come on."
Of course, conservative media takes delight in nailing the President at every opportunity, especially when making a personal gaffe. Oftentimes the attacks are justified: Horrific jobs report released on Friday? Go ahead, conservatives…have at it. Changes to the President's upcoming budget that includes impacting Medicare and Social Security? Liberal media…it's free game.
But when we start getting into tracking the President's field goal percentage during an Easter hoops shootaround at the White House, well…now we're traveling at ludicrous speed. Sean Hannity even went so far to show all 22 of the President's attempts (just two were converted). And guess what? If Mr. Obama shot 16-of-22…all we'd hear about are questions around how much basketball the President must be playing if he's able to shoot so well.
Then there was the overkill around the First Lady's slip of the tongue, when Mrs. Obama accidentally stated she was a "busy single mom," before quickly correcting herself. Given the travel the President does and the overall demands of the job (cue the lame golf jokes in the comments section below), she probably does feel she's with the kids without her husband as often as a single mom is.
No story there, right? Of course not. We're then subjected to two days of speculation—including from respected intellects like syndicated radio host/author Mark Levin—that the Obama's marriage may be in trouble. You would expect that kind stuff from Harvey Levin (TMZ), not a preeminent constitutional lawyer.
So when a real issue comes up about the President, one worth debating, one worth criticizing him on—and there are plenty to choose from—it gets lost in pointless noise like this. Journalists yearn to be taken seriously all the time, but when they get in the gutter with nonsense like the examples listed above in the course of one week alone, they deserve the results of studies and polls that say trust in the media is at an all-time low.
What else made this such a nightmare week for cable news? The not-so-glorious debuts of the follow two programs in primetime.
The first –and most alarming from a ratings perspective—happened at CNN. In case you missed it, and there's a good chance you did—Get To The Point debuted on April Fools' Day. Curiously, CNN opted not to promote the program leading up to its debut, and it showed. Over a four-day average this week (Friday's ratings won't be out until Monday), Point was down almost 50 percent from the audience Anderson Cooper's AC360 repeat drew last year during the same time period.
Yikes.
Conversely, All In With Chris Hayes was given aggressive promotion by MSNBC and industry media leading up to its debut April 1. Things went relatively well on its opening night, with the program even coming within striking distance (in the demo) of an O'Reilly-less Factor on Monday (the show was hosted by a shaky former Massachusetts Senator Scott Brown). But the first impression didn't sit well with a majority of viewers, as Hayes lost more than half his audience in the demo the following night, even dropping to 4th (out of four) by Wednesday evening.
If Phil Griffin expects to his prediction to beat FOX by the end of this year to come to fruition, the current offering in the crucial 8:00 PM timeslot needs to close the 5-to-1 total audience gap with its ultimate competitor…not widen it, as witnessed as the week progressed.
Cable news and talk radio can sometimes be good, sometimes bad, sometimes ugly…
When it came to ratings around some new offerings, questionable commentary and odd editorial decisions, let's just chalk up last week to the final two.
Follow Joe Concha on Twitter @ConchSports
Have a tip we should know? tips@mediaite.com