One of the Leaked DNC Emails Called Mediaite a 'Right-Wing Online' Publication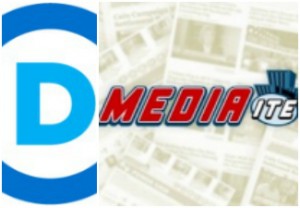 Story time: Before I started at Mediaite, I was briefly affiliated with a website than ran fun, informative pieces full of advice on everything that could conceivably interest women ages 18 to 25. (The morning pitch meetings were a riot and a half.) When I told the editor that I was leaving to accept my offer at Mediaite, he balked.
"Isn't that, like, a super conservative website?" he asked.
It had seemed pretty clear to me for a long time that Mediaite employed and featured people with a variety of perspectives, but I did go back to my desk that day and look up what people said about Mediaite. I learned that Rachel Maddow had called us a "conservative media criticism website" and that Joy Reid called us a "Fox News fan site." Bill O'Reilly, on the other hand, called us, "fairly left-wing" and "liberal." Sean Hannity called us "Media Matters lite."
It's a little confusing, as you can see. Obviously, as our founder Dan Abrams pointed out this week, some columnists at Mediaite fall on one side or the other. Others can't necessarily be pegged so clearly. Why or how this is so difficult for individuals to accept is baffling, but in the end, people seem to define us by the writer they disagree with most. After all, the pieces on their side are just "accurate," the ones they disagree with are just clearly partisan hackery.
So guess who was the latest to play this name calling game? The DNC! Like Maddow, Reid, O'Reilly, and Hannity, the DNC labeled us as being their opposition. In their big email leak today, we found this:
See below from two right-wing online publications. Not concerned about these. But, would be good to follow up on what we'd discussed previously re doing something tomorrow.

…

Kornacki Confronts Wasserman Schultz Over Refusal to Say Whether She'll Debate Dem Opponent http://www.mediaite.com/tv/kornacki-confronts-wasserman-schultz-over-refusal-to-say-whether-shell-debate-dem-opponent/
Here's the picture: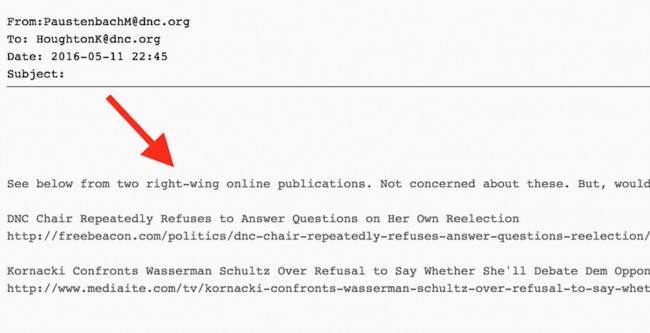 There it is. Our article about Steve Kornacki and Debbie Wasserman Schultz got us labeled a "right-wing online" publication!
We have something for everyone here, whether a reader leans right or left or somewhere in between. But you might not recognize that if you are firmly in the tank for one side or the other. Sigh.
[image via screengrab]
For more from Lindsey: Twitter. Facebook.
This is an opinion piece. The views expressed in this article are those of just the author.