The Oscars Running Diary: Boobs! Babs! Beards! Ben! (And WAY Too Many Musicals)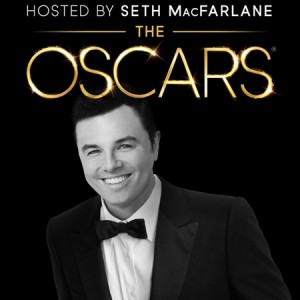 We'll mercifully skip the seven hours of E!'s red carpet coverage (yup, it actually started at 1:30 PM EST) and get right to the show.
As you may have heard, Seth MacFarlane is hosting the show. Three "wow" facts to share about the 39-year-old creator of Family Guy:
He was supposed to be on American Airlines Flight 11 on 9/11, which crashed into one of the Twin Towers, but missed his flight after his travel agent gave him the wrong boarding time.
He was nominated for a Grammy in 2011 for a solo album that consisted of him signing classics of the '40s and '50s.
His first movie, Ted (with MacFarlane as the voice of a raunchy teddy bear that comes to life), is the highest-grossing R-rated comedy of all-time.
Note: The following running diary was interrupted in the middle of the show by an extended dog walk (live in an apartment, no backyard, you get the idea). Westies can be very persuasive in these situations.
8:30 PM EST: Peter Brady emerges on stage. What happened to MacFarlane?
8:31 PM: Seth's first joke about getting Tommy Lee Jones-to-laugh falls flat. #Billy Crystal starts trending on Twitter.
8:34 PM: Best line of the opening monologue comes when the host asks Daniel Day Lewis what it was like to be in character of Abe Lincoln 24/7 during the filming of the movie: "If you bumped into Don Cheadle in the studio lot, would you try and free him?" In a related story, Touré is planning 18 segments on MacFarlane and possible connections to the Tea Party this week on The Cycle.
8:38 PM: Never thought I'd miss James Franco, but haven't seen someone this uncomfortable on stage since James Stockdale.
8:39 PM: 81-year-old Bill Shatner (from the future) in the house in an effort to save Seth from being the worst Oscar host ever. A well-planned skit has to work better than what we've seen so far.
8:40 PM: We Saw Your Boobs musical number really classes up the joint. Top line of the song reserved for Kate Winslet: "Kate Winslet in Heavenly Creatures and Hamlet and Titanic, and whatever you're in right now…we saw your boobs." It's kinda funny, but the Oscars should be above this.
8:42 PM: Sock puppets acting out Flight is the best moment of the evening. Laughed out loud hard there…
8:44 PM: Given that the Seth-hitting-on-Sally Field bit was on tape, couldn't someone have stepped in beforehand and said, "You know this sucks, right?"
8:46 PM: 15-minute run that includes seven Facebook messages and two texts stating I look like MacFarlane/Brady ends. I think that's a compliment, right?
8:47 PM: And the final review of MacFarlane's opening monologue performance is, uh, conflicted. Like most movies that go on too long (See: The last five Judd Apatow offerings), he used 17 minutes when 10 would have sufficed. But it was original, and the host can sing. But I can't seem to get Tina Fey and Amy Poehler from the Golden Globes out of my head as a higher standard. Ultimately, Trey Parker and Matt Stone—the creators of South Park who openly loathe MacFarlane—are probably smiling. Definitive analysis, I know…
8:52 PM Christoph Waltz wins Best Supporting Actor for Django Unchained…I was rooting for the venerable Alan Arkin. Going to commercial, Bradley Cooper looks genuinely pissed co-star Bobby DeNiro didn't win for the stretch of playing a Philadelphia Eagles fan in Silver Linings Playbook.
8:56 PM: The first presenters of the evening, Paul Rudd and Melissa McCarthy, both single-handedly break the awkward meter with a crickets-inducing short sketch about God-knows-what, thereby prompting at least 10 million viewers to move over to Fox to catch the opening of Family Guy.
9:03 PM: First kilt seen on stage in Oscar history.
9:05 PM: Reese Witherspoon looks no different than she did in the underrated Cruel Intentions (1999). She even has a 13-year-old kid. I'm not really getting this old, am I?
9:10 PM: Seth MacFarlane ribs George Clooney – who looks 60 with the beard, and Mr. Ocean is barely smiling. You can tell none of these actors outside of Mark Walberg and Mila Kunis never met MacFarlane before tonight.
9:55 PM: It is revealed that the orchestra is streaming in from a nearby Capital Records studio. John Travolta is then introduced (it's 19 years since Pulp Fiction, and he's still sporting the Vincent Vega hair). Family Guy Seth would have eviscerated Travolta with a steam room joke. Host Seth leaves it alone.
10:01: Wow. Jennifer Hudson—sans 80 pounds since Dreamgirls—definitely didn't lip-sync that performance. Incredible.
10:13 PM: Mark Walberg and Ted (the bear) present for sound mixing. 23-27 million people all said the following simultaneously: "Ted should have hosted instead."
10:15 PM: There's a tie in sound editing. Wonder why there's a never a tie for Best Picture or Best Actress (wait…the latter happened in 1969 between Barbra Streisand and Kate Hepburn as noted by geoherb1 in the comments section). Our readers know their stuff.
10:24 PM: Anne Hathaway –who sans hair looks like Ralph Macchio–thanks each of her competitors for Best Supporting Actress by name. Classy. She proceeds to thank her entire Facebook friends list for seemingly the next 18 minutes…the speech won't end. But no actress is more beloved in Hollywood than Hathaway, so the overused Jaws theme being used to warn winners to wrap it up is temporarily retired.
10:34 PM: Adele performs Skyfall. She's great, but there's way, way, WAY too much music featured in this show (especially when considering 0.4 percent of all movies are, you know, musicals).
10:45 PM: Kristen Stewart does her best Willis Reed impression, loses the crutches she needed during the red carpet portion for an injured foot and limps to the podium to present an award not important enough to remember. K-Stew looks a bit disheveled, incoherent, and is even sporting a bruise. Hashtag Xanax is big on the Twitter right now. And if social media is any indication, she may be the only public figure with a lower approval rating than Congress. People absolutely hate her.
10:57 PM: The "In Memoriam" portion always gets me. Jack Klugman, Ernest Borgnine, Michael Clarke Duncan, Tony Scott…all tremendous, all gone. But where was the great Larry Hagman? Sherman Hemsley? Too TV-ish for the Academy?
11:01 PM: Sing all you want, Streisand…you and/or Seth Rogan still owe me $12.00 for The Guilt Trip.
11:16 PM: The cast of Chicago is now on stage. Renee Zellweger clearly still hasn't embraced a Life of Pi. In an unrelated story, it's getting late early around here.
11:28 PM: Can't believe this is still going. I just dozed off for a bit. No, seriously…
11:42 PM: Best Actress finally up. Jessica Chastain better win or somebody is getting waterboarded…
11:43 PM: Jennifer Lawrence gets the nod. OK, I can live with that…Chastain is the next Meryl Streep and therefore will take home several statues when it's all said and done. Anyway, back to Lawrence, DeNiro gets up to congratulate her, but she blows him off. She proceeds to fall going up the steps. Did DeNiro or his "people" have a role in this, or is it just what they say about karma? Now I'm WIDE awake. That was easily the most compelling 15 seconds of the show.
11:46 PM: I just noticed Clooney, Cooper, Ben Affleck, Tommy Lee Jones, Hugh Jackman, Joaquin Phoenix, and Russell Crowe all have beards. Is that, like, the thing now?
11:49 PM: Daniel Day Lewis (no beard) wins Best Actor. Do you what's great about DDL? He's been doing movies since 1980 and only has 28 titles to his name. That's less than one movie per year…or 12 less than Jason Bateman has done in the past six months. He picks his parts judiciously, puts everything into the role, then takes a year off to get the hunger back. Awesome.
11:53 PM: Jack is on stage. Burgundy bow-tie. Only Nicholson can pull that off. He proceeds to introduce Michelle Obama from the White House. She looks stunning and might be in better shape than the Williams sisters at age 49. Conservative blogs will be dumb enough to attack her for being part of the show at all, you'll see…
11:57 PM: First Lady announces Argo for Best Picture. A film about Hollywood helping to save seven doomed Americans in Iran? How could it not win?
In all seriousness, Affleck's Argo is a very, very good film, but it's not a great film. Using modern examples from this century, Gladiator is a great film. A Beautiful Mind is a great firm. Slumdog Millionaire is a great film. The King's Speech is a great film. Argo is the best of an above average bunch.
But great?
A movie that we'll be putting in our own Top 10s years from now?
Nope.
Overall feelings on the host: MacFarlane is a TV guy, a decent (again, not great) host and exceptional singer. But in the end, the Emmy Awards would have been better served by his talent and tone. Then again, it was an improvement over the Franco/Hathaway debacle.
See you next year with permanent hosts Tina Fey and Amy Poehler.
Follow Joe Concha on Twitter @ConchSports
Have a tip we should know? tips@mediaite.com