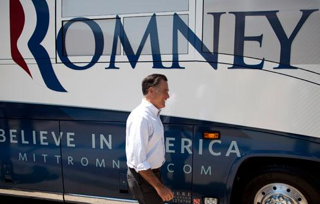 President Obama was speaking at a campaign even in Cleveland, Ohio today, which was enough for the Romney campaign, which also happened to be in town, to pull a bit of a campaign prank: drive around the event in circles, honking the horn to drown out the Democrats.

RELATED: Oops? Obama Wins Poll On Republican Latino Outreach Site
It was not the people on the ground at the event that first noticed that the bus was making noise and circling, as the tweets that first came in were from reporters actually on the Romney bus, as Salon explains:
Several reporters on the bus tweeted with confusion, at first, why the bus seemed to be aimlessly circling in Ohio. Soon, the campaign's brilliant scheme revealed itself as they realized the bus — emblazoned with the Romney campaign's logo in giant letters — was circling the president's speech site and honking at Obama supporters. The president's talk doesn't begin until later this afternoon, but the move seemed to be an attempt to harass, distract or annoy attendees.
Obama supporters at the event that noticed the taunting reportedly responded by jeering the bus, and this went on for some time (but not while the President was actually speaking). The Obama campaign responded officially to the taunting:
"Campaigns are a reflection of their candidates, and let's remember that Mitt Romney himself encouraged his campaign to engage in heckling just a few weeks ago," said Danny Kanner, an Obama campaign spokesman in an emailed statement, adding that "the American people deserve better than antics that are more at home in a second grade classroom than in a presidential campaign."
Have a tip we should know? tips@mediaite.com