'Their All Losers': New Report Details Trump's Sensitivity to Bankruptcy, Hair Jokes at Comedy Central Roast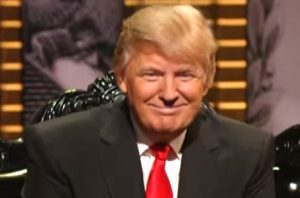 Donald Trump was highly sensitive to jokes about his hair and past business bankruptcies during his 2011 Comedy Central roast.
This according to a new in-depth Huffington Post report on the Comedy Central special. As part of their article, Huffington Post obtained copies of a draft of Trump's closing monologue, on which he made numerous changes designed to soften or eliminate jokes he was not comfortable with, including cracks about his famous mane.
In the first draft, (Trump) crossed out a joke about needing to feed his squirrel-like bouffant. When the writers kept the joke in for the second draft, he crossed it out again, offering instead this about his hair: "Look how great it looks."

The writers eventually convinced Trump to "own" his hair by wrapping follicular self-deprecation into a boast about his wealth. The joke, not in the rebuttal drafts obtained by HuffPost, originally went: "What's the difference between a wet raccoon and Donald Trump's hair? A wet raccoon doesn't have $2 billion." Trump eventually agreed to use the joke, according to several people involved in the show, so long as the $2 billion was changed to $7 billion. (Roast participant and comedian Jeffrey) Ross told (Jimmy) Kimmel that settling on the amount was like a "business negotiation," with Trump initially wanting the number to be $10 billion.
The report also claimed Trump's camp was clear that certain financial matters were off limits, according to Comedy Central senior vice president Jonas Larsen
Trump Tower made it known that two subjects were off-limits: Trump's past bankruptcies, and any suggestion that he was not as wealthy as he claimed to be. "I don't think we ever got that in writing, but that was definitely conveyed verbally," Larsen said.
Trump also added this grammatically riddled line to his parting shots:
"Their all losers (sic) and I like associating with loser (sic) because it makes me feel even better about myself."
Check out the full report, via Huffington Post
[image via screengrab]
–
Follow Joe DePaolo (@joe_depaolo) on Twitter
Have a tip we should know? tips@mediaite.com
Joe DePaolo - Senior Editor